I have forgotten you
and your jeep, a Willy
with a canvas top, golf ball-sized dent
on the driver's side, three coffee stains -
one yours, two mine - and the four-inch
scratch on the dash.
I have no recollection
of that sweet and spicy English Leather,
your skin, or your moustache -
blonde fu man chu dwindling down
to the sharp angle of your jaw where
a tiny scar from a hockey puck lingered.
I have forgotten the necklace
you tied around my neck, a strand
of turquoise and heishi strung with love,
the two of us in tie-dyed tees and matching beads 
listening to Carly Simon, livin' the good ol' days – 
not a breath of space between us.
No, I have no memory
of your full lips or green-eyed promise.
I don't ever think back to that hot
and humid summer,
that Sunday night
in an Illinois cornfield,
and your dad's '71 Cadillac,
virgin white.
© by Donna Pflueger. 
Used with the author's permission.
Purchase a framed print of this poem.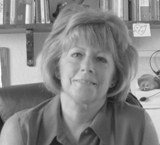 Donna Pflueger lives in the high desert of Cottonwood, Arizona where her inspiration to write occurs by simply stepping outside. An avid walker, she finds the steady rhythm helps her create. Donna's husband of 34 years, John, and her dog, Lewie, are her constant writing companions; one listens and critiques her work, and the other sleeps right through it.
raindame9:
What marvelous details - loved it. Helen Padway
Posted 02/08/2012 12:52 AM
transitions:
I have forgotten as well.. just like you ~ Thanks, Donna. Relatedly, Judy
Posted 02/07/2012 12:02 PM
Sharon Urdahl:
Good imaging...really enjoyed your poem.
Posted 02/07/2012 10:18 AM
Jo:
Donna, What a wonderful bag of memories your poem opens to all of us who lived this. I so enjoyed.
Posted 02/06/2012 05:33 PM
Jo:
Donna, What a wonderful bag of memories your poem opens to all of us who lived this. I so enjoyed.
Posted 02/06/2012 05:32 PM
Donna Heinz:
Thanks for your poetic forgetfulness that brought back similar memories. And congratulations on being the One thousandth poem. These daily poems add wonder and joy to my days. Thank you all!
Posted 02/06/2012 02:28 PM
pwax:
Wonderful details and perfect wording at the end! And congratulations to Jayne for finding another good poem. A thousand--WOW.
Posted 02/06/2012 02:20 PM
KevinArnold:
Fun, thanks for it and the nine hundred ninety nine others!
Posted 02/06/2012 12:17 PM
Anjie:
Congratulations to both Jayne and Donna! Here's to the good ol' days we don't remember! And here's to another 1000 poems!
Posted 02/06/2012 12:02 PM
marenomitchell:
Jayne and Donna, CONGRATULATIONS to both of you!
Posted 02/06/2012 11:41 AM
wendy morton:
Ah, all those lovely images we thought we had forgotten.
Posted 02/06/2012 11:17 AM
Lorine:
spot on-I love it!
Posted 02/06/2012 10:12 AM
mimi:
o those non-memories--I know them well--great poem!
Posted 02/06/2012 09:39 AM
CathyJ:
Wonderful, evocative poem!
Posted 02/06/2012 09:37 AM
Linda Lee (Konichek):
Young people don't begin to know the memories some of us have "forgotten." Loved every bit of this poem and the detailed images. Thanks!
Posted 02/06/2012 09:23 AM
lincolnhartford:
A lovely parade of non-memories. Each little band playing us to the next until at last, the clever revealing duet. Well done. Nice poem.
Posted 02/06/2012 08:44 AM
dotief@comcast.net:
I'm glad I don't remember anything like these memories, either! Great Poem! Happy 1000th!
Posted 02/06/2012 07:56 AM
tannerlynne:
OH My, what a nice poem.
Posted 02/06/2012 07:10 AM
Eiken:
Beautiful poem of memories, evocative, made me feel good.
Posted 02/06/2012 04:45 AM