Walking, snow falling, it is possible
to focus at various distances
in turn on separate flakes, sharply engage
the attention at several spatial points:
the nearer cold and more uncomfortable,
the farther distanced and almost pleasing.
Living, time passing, it is preferable
to focus the memory in turn upon
the more distant retrospects in order
that the present mind may retain its peace.
Yet knowing that seeing and remembering
are both of course personal illusions.
This poem is in the public domain.
Purchase a framed print of this poem.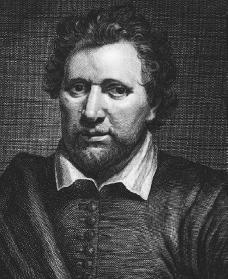 Ben Jonson (1573 - 1637) was born in London and is generally thought to be England's first poet laureate. A well educated man, he explored first bricklaying, then soldiering, then acting as a career before becoming a playwright and poet. A contemporary of Shakespeare (Jonson's assessment of Shakespeare was that he was "a naturally gifted writer who failed to discipline himself."), Jonson was an extremely successful and popular playwright himself. His strength was satire and comedy. But while his plays tended to be bold and controversial, Jonson's poetry is typically gentle and introspective. Quite the party animal, Jonson's volatile temper brought him several stints in prison, at least one fatal duel, and innumerable arguments.
New comments are closed for now.
John:
This one has bothered me for a few days. The language doesn't seem Elizabethan at all. And the word "spatial," according to Merriam-Webster, didn't enter the language until 1847.
Posted 01/30/2013 12:00 PM
pbpoet:
wonderful poem. Love Ben Jonson's work. Thank you for choosing this poem. Patricia
Posted 01/29/2013 01:47 PM
dotief@comcast.net:
Wow! That's very profound!
Posted 01/29/2013 08:36 AM
Katrina:
Writing, observing, it is palpable to relate expression with impression each in a course of their own whereby reading ancient texts may activate heartfelt resonance.
Posted 01/29/2013 06:37 AM