this then is fall rain.
i spoke of it
in july, telling you
rain has textures,
telling you july
rain drives deep for

dry roots, to fill them,
drives in at warm

angles, softly. i
told you then fall

rain is cold, rough as
wrought iron, sometimes,

bent as rusted nails.
you were content,

though, to wait, to learn
this rain by touch,

to measure your blue
fingers against

the still warm places
between rain-drops

on your surprised face.
This poem is permanently incorporated onto a hallway wall on the second floor 
of the Midwest Airlines Convention Center in Milwaukee, Wisconsin. Used here with the author's permission.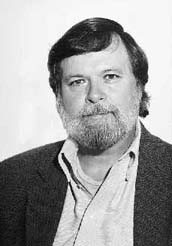 Tom Montag's newest book is

In This Place: Selected Poems 1982-2013. Raised on an Iowa farm, Tom
is the author of numerous books, including
Curlew: Home
, a memoir about growing up;
Kissing Poetry's Sister
, a collection of essays that examines the writing life and being a writer;
The Idea of the Local,
essays about people and place;
Middle Ground
, a collection of early poetry, and
The Big Book of Ben Zen
, a compilation of work from his Ben Zen poetry series. He also, with Peter Pizzino, co-wrote
Peter's Story
, about growing up in Milwaukee's Italian Third Ward during the 1920s-1930s. Tom posts a short poem every workday on his blog, The Middlewesterner

(

www.middlewesterner.blogspot.com

) and is at work on a long-term project about the Middlewest entitled
Vagabond in the Middle
(

www.wlhn.org/vagabond

). He also writes lyrics for, and plays bass with, the folk/new roots group, Doc Abbick in Trinity (give a listen at

http://www.myspace.com/docabbickintrinity

and
https://www.youtube.com/watch?v=mpLYkd0v8Aw&list=UU8Gtu7aBdrk0-GKdxAMqn_g
). Though he retired at age 55 from a career in the printing industry so that he could write full-time, Tom admits that he still doesn't know what he wants to do when he grows up.
njc:
What an intensely delightful, simple poem. Weaving the title into this, though, leaves me a bit disturbed at the thought of over-explanations for someone so young; my sense is, this was a turning point for her father, and maybe he became more careful about his lectures. Lovely, memorable, a beautiful lesson.
Posted 10/05/2014 11:48 AM
karenpaulholmes:
very nice poem. Sparse in a good good way -- precise but still full of feeling.
Posted 10/05/2014 10:39 AM
jah:
Great descriptions.
Posted 10/05/2014 07:30 AM
mimi:
after days of rain, a lovely poem, Tom, thanks...
Posted 10/05/2014 07:18 AM
Ross Kightly:
To aim for a surprised face at every rain shower! Great stuff, thank you [from the sunshine on the other side of the Pond].
Posted 10/05/2014 04:37 AM
barbsteff:
Today's rain was the cold, rough as wrought iron kind. Perfect timing.
Posted 10/04/2014 11:17 PM