Here's to the floor,
Our best friend of all,
Who sticks to us close
In the time of our fall.
When benches are fickle
And tables betray
And rugs are revolving,
He meets us half-way.
Our stay and support,
When we can't stand alone,
With the floor for a backer,
We'll never be thrown.
Here's to our friend,
In life's every stage!
Dry nurse of infancy,
Wet nurse of age!
A health to our floor!
Supporter and stay;
May he never give way!
This poem is in the public domain.
Purchase a framed print of this poem.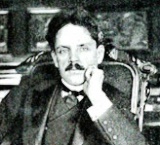 Oliver Herford (1863–1935) was an American poet, humorist, and illustrator. Born in England, his family moved back to the U.S. when he was twelve. He returned to Europe to study art in London and Paris, then moved to New York in his late twenties. Oliver enjoyed a prolific career as a writer and illustrator, appearing regularly in leading magazines of his day, including Life and Ladies' Home Journal, and he published more than two dozen books for children and adults. His witty, sometimes scathing verse, earned him the nickname "America's Oscar Wilde."
New comments are closed for now.
Larry Schug:
Goes to show there's poetry everywhere.
Posted 10/07/2013 07:58 AM
Eiken:
Wonderful poem to the humble floor that keeps up level daily :)
Posted 10/07/2013 04:55 AM