© by Ruth Moose.
Used with the author's permission.
Purchase a framed print of this poem.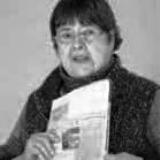 Ruth Moose was on the Creative Writing faculty at the University of North Carolina-Chapel Hill for 15 years. Author of three collections of short stories and six collections of poetry, her work has appeared in many U.S. publications and in Holland, South Africa, England and Denmark. Ruth was awarded a MacDowell Fellowship and, in 2009, received the prestigious Chapman Fellowship for Teaching. Most recently, her debut novel, Doing it at the Dixie Dew, was awarded a $10,000 Malice Domestic Prize; it will be published in 2014 by St. Martin's Press. Ruth lives in Chapel Hill, NC.
Ginny C.:
I like the attitude that comes across with the language, and also the liveliness of this poem. Thanks for sharing.
Posted 10/08/2013 08:05 PM
peninsulapoet:
Love this.
Posted 10/08/2013 11:56 AM
Katrina:
The way the tenses morph with Anolis' pigment is intriguing. This will take me a few readings to absorb.
Posted 10/08/2013 05:46 AM
vscholtz:
Poetry from the homely - I love it.
Posted 10/08/2013 05:38 AM
phebe.davidson@gmail.com:
Indeed. A poem that cuts right to the heart---those remarkable little lizards, everywhere, quicker almost than light.
Posted 10/08/2013 05:13 AM