On the Interstate, my daughter tells me
she only has two questions. I'm relieved
because she usually has two hundred.
I say, Okay, let's have them, and she asks,
What was there before there was anything?
Stupidly, I think I can answer this:
There was grass, forests, fields, meadows, rivers.
She stops me. No, Daddy. I mean before
there was anything at all, what was there?
I say that I don't know, so then she asks,
Where do we go when we die?
I tell her
I don't know the answer to this either.
She looks out the side, and I look forward,
then she asks if we can have some music.
From This Miraculous Turning (Press 53, 2014).
Used with the author's permission.
Purchase a framed print of this poem.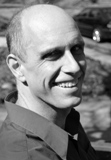 Joe Mills is a faculty member at the University of North Carolina School of the Arts, where he holds the Susan Burress Wall Distinguished Professorship in the Humanities. Joe's published work includes five volumes of poetry, fiction, drama, criticism and, with his wife, Danielle Tarmey, he cowrote A Guide to North Carolina's Wineries. Says Joe, "Although I believe my written work is getting better as I age, I still can't master bar chords on the guitar." Enjoy his blog, "The Practice of Attention," and learn more about him at www.josephrobertmills.com.
transitions:
Agree with Glen....loved it. And, actually, 'no answer' is a very loud answer ~ Judy W.
Posted 06/16/2015 12:06 PM
Dorcas:
The music of the spheres. Such a logical answer.
Posted 06/16/2015 11:45 AM
Glen Sorestad:
Ah, it was ever thus... I love the poem, Joe.
Posted 06/16/2015 09:57 AM
TheSilverOne:
That moment when our children discover we don't have all the answers. This says it well.
Posted 06/16/2015 07:55 AM
erinsnana:
Funny!
Posted 06/16/2015 07:27 AM
Katrina:
Music! What a good answer.
Posted 06/16/2015 03:22 AM