I remember the wonders of our grocers' shop.
That proud Lancashire cheese
cylindrical upon the marble counter
with its fearsome wire
stretching between two carved oak toggles,
ready to do battle for asking ladies.
Mr. Grimshaw had the art of immaculate deduction,
each order cut to perfection?no adjustment.
Even the aromatic ham on its nine-inch plinth*,
sliced by hand onto waxy paper,
was perfect to the quarter ounce.

However, as a child, I completely missed
the skills of Mr. Grimshaw.  My attention riveted
to the tonsorial invincibility
of several ginger strands
spreading exiguously from one ear
to the other. A long, long way.
As he bent over his tasks, I would count
these strands; there were usually seven.

Mrs. Grimshaw sat unctuously beside the till,
its patterned brass housing, formidable buttons
labelled tuppence-ha'penny, one shilling and sixpence?
up to a pound. Mrs. Grimshaw pressed
suitable amounts, whereupon a drawer would burst open?
with dramatic speed?and in went the money,
bang went the drawer, and out rang a gratified bell.
Mrs. Grimshaw, showing certain satisfaction,
would grandly ease back her impressive torso
to await the next onslaught.

Oh,I remember Grimshaws!
(But for all the wrong reasons.)
© by Rhona Aitken.
Used with the author's permission.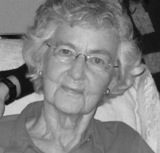 Rhona Aitken has lived all over the world during the course of her life. The author of The Memsahib's Cookbook, which she wrote while living in India and for which she also provided all of the illustrations, Rhona and her husband, Gordon, now deceased, owned and operated a hotel in the U.K. for many years, after which they bought an old-world house and turned it into a thriving restaurant. Now living in a care facility in Exmouth, Rhona has three children and seven grandchildren, all of whom inherited her love for travel. At 90, Rhona continues to write and paint, shares Your Daily Poem every morning with her neighbors, and continues to travel—on her 3-wheeler. Says Rhona, ?Life is hilarious, and I have some wonderful stories to tell."
Lori Levy:
The poet brings the Grimshaws and their grocery store totally alive!
Posted 09/06/2015 06:03 PM
Katrina:
I like this poem; 'plinth' is familiar to me but I learnt 'exiguous'. Thank you.
Posted 09/06/2015 04:59 AM