I did not know her,
nor had I ever seen her
but her smile,
passing by each other
while running on the beach,
made my day.
†
©†by Edward Hujsak.
Used with the authorís permission.
†
†
Purchase a framed print of this poem.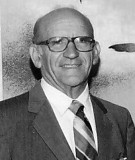 Edward Hujsak is a rocket engineer turned writer, artist, sculptor, and builder of fine furniture and musical instruments. A chemical engineering graduate of the University of New Hampshire, Edward worked on propulsion systems at General Dynamics during development of the Atlas and Centaur rockets. He was propulsion engineer on John Glenn's famous orbital flight and served as chief of preliminary design at General Dynamics Astronautics Division for ten years, accumulating more than a dozen patents in the aerospace field. Edward is the author of numerous published books and has written commentaries for a variety of journals and magazines, including Spaceflight, Space News, Machine Design, San Diego Reader and MAKE magazine. He lives in La Jolla, California.
New comments are closed for now.
ccmatthe:
Such a simple, eloquent truth!
Posted 09/26/2016 08:52 AM
barbsteff:
Who could no love a rocket engineer turned writer? Perfect expression of the fleeting moment.
Posted 09/22/2016 02:36 PM
Janet Leahy:
A moment in time, captured in a poem.
Posted 09/22/2016 05:32 AM
r1manchester:
nice little poem, Ed, nice moment to remember.
Posted 09/22/2016 03:37 AM
Newf:
I just love it. A small thing can really make a diffe ence. Very well expressed.
Posted 09/22/2016 03:30 AM
rhonasheridan:
60 years ago and i still remember it! A lovely wee poem.
Posted 09/22/2016 02:15 AM
Katrina:
Beautiful.
Posted 09/22/2016 02:06 AM