Winter      1910
Pigeon Lake is frozen over 
A colossal      snow-dusted slab

My grandfather      his breath a
Downy cloud around his head
In a wagon         loaded with firewood

To barter for food
Horses know the way
Over water     hard      as stone
© by David M. Tookey.
Used here with the author's permission.
Purchase a framed print of this poem.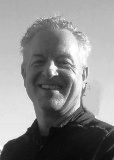 David M. Tookey lives in Seattle, Washington, where he is an elementary school teacher. A bicycle is his main mode of transport around town; David says he finds he can tinker with poems in his head as he rides. (Safer than texting and driving? We're not sure.)
DonnaMR:
Lovely poem. "a downy cloud around his head" gorgeous.
Posted 01/17/2017 03:15 PM
Sharon Waller Knutson:
Good poem, David. I like the way you make important words stand out with spaces between words.
Posted 01/17/2017 10:49 AM
Michael:
Thank you David, Love, "over water, hard as stone."
Posted 01/17/2017 10:16 AM
blueskies:
Vivid imagery in the sparsity of words.Thanks, David.
Posted 01/17/2017 07:52 AM
David:
A story told with few words and stark images. Nicely done!
Posted 01/17/2017 06:38 AM