An impromptu evening walk midweek
with my two-year-old son in his stroller
brought us to the neighborhood QFC,
where we wait for ham at the deli counter.
I'm thirty minutes off a glass of red wine,
soft behind the eyes as I scroll through social media,
my son glued to a half-eaten Jonagold.

...Puff the magic dragon lived by the sea
and frolicked in the autumn mist in a land called Honalee.
Puff the magic dragon lived by the sea...

The lyrics reach me as though filtered
through an echo chamber, distant and imprecise,
and I am no longer in a grocery store at a deli counter
or in a Facebook highlight reel. Nor am I squarely
in a memory of singing softly to my son
or of being rocked to sleep in a fraying Bentwood
or of fighting sleep snug between my then-together parents
at a Peter, Paul and Mary concert highly anticipated.
(And yet...)

There are no customers. It is very still.

...and frolicked in the autumn mist in a land called Honalee.

By the end of the refrain I'm back at the grocery store
with a butcher inexplicably singing "Puff, the Magic Dragon"
as he thin-slices my meat. My son, apple forgotten,
turns to me in his stroller, his eyes wide and striking.
He whispers only, "Puff" (himself a fan for months).
"I know—Puff," I whisper back. We just look at each other.
We start singing; there are three of us now.

Together they would travel on a boat with billowed sail.
Jackie kept a lookout perched on Puff's gigantic tail...

"Wow, we both love that song. What a treat
to hear it sung at the grocery store, of all places."
The butcher chuckles. "You don't hear that one much anymore."
He hands me my ham, neatly wrapped.
I thank him and push my son toward the checkstand,
as though nothing in particular just happened.

© by Kristen Elde.
Used with the author's permission.
Purchase a framed print of this poem.
†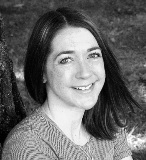 Kristen Elde found her way to poetry about eight years ago, lured by a dream she had while traveling in Iceland, her "magic place" that has since yielded many poems. Kristenís work has been published in several print and online publications and she maintains a poetry blog at†http://difficult-loves.blogspot.com. Before poetry took hold, Kristen wrote articles for magazines including†BUST,†Health, and†Runner's World. She lives with her husband and toddler son in western Massachusetts.
†
†
†
†
joecot:
"as though nothing in particular just happened" what a great ending for magic in a grocery store
Posted 03/24/2017 09:26 PM
barbsteff:
Delightful poem, magical even.
Posted 03/24/2017 04:54 PM
Sharon Waller Knutson:
Good job, Kristin on writing a narrative poem that was accessible and nostalgic. Those are my favorites.
Posted 03/24/2017 12:14 PM
LIndaKT:
Your poem brought back many happy memories. Thanks for this, Kristen!
Posted 03/24/2017 10:43 AM
Glen Sorestad:
I loved it, Kristen. Such "magic" moments are baffling, but so delicious and this one is so well captured.
Posted 03/24/2017 10:33 AM
loisflmom:
Lovely!
Posted 03/24/2017 10:17 AM
DavidTookey:
Love the combination of song and poem. Wonderful!!!
Posted 03/24/2017 09:49 AM
cork:
Melody.
Posted 03/24/2017 08:00 AM
Larry Schug:
This poem transported me away from the computer and took me to a different place in a different body. It left a song with me that I won't mind carrying around today.
Posted 03/24/2017 07:49 AM
mimi:
a sweet memory and poem.
Posted 03/24/2017 07:05 AM
Katrina:
The very best sealing wax to you all!
Posted 03/24/2017 06:18 AM
Judithku:
This made my morning - thank you so much.
Posted 03/24/2017 05:42 AM
Jean :D:
What a lovely story/poem/experience. Glad Kristen (& Jayne) shared this with us.
Posted 03/24/2017 03:52 AM