I looked it up with interest,
with an image in my mind of . . .
sunshine, a small cottage, and a scented garden . . .
with roses around the door.
Perhaps a stroll to the local pub;
maybe a trip down the river.

The word I sought was "retirement."

My thesaurus, dear old friend,
proved somewhat blunt
and said, amongst other things,
"Elderly, emeritus, retreat, pensioned,
past . . ." (Past what, it didn't say).
"Solitude, obscurity . . ."
What a list! It made me think.

The roses need pruning,
the local pub is closed,
the riverside too bumpy for a wheelchair.
Am I supposed to relish this?
When my Granny "retired", she simply
went to bed with sips of night-time brandy,
everyone running after her,
and lots of chicken and smoked salmon
because they were 'easy to digest.'

I've been put out to grass.
I can't eat it,
I can't cut it,
wheelchairs don't like it.
I can take myself off,
shut myself away,
turn tail,
hit the hay.

I can be 'elderly' and benevolent.
I can be 'ancient' and vitriolic.
What I cannot be is central to me: exist –
and that is hard.
I can be a peripheral pest!
However, 'past it'?
Never.

I've learned a few tricks on the way.
My thesaurus – dear, old, well- thumbed friend –
also says,
'Cancel a debt,'
'Decide a verdict,'
'Make an exit.'
Which shall I tackle first?


© by Rhona Aitken.
Used with the author's permission.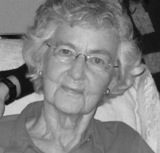 Rhona Aitken has lived all over the world during the course of her life. The author of The Memsahib's Cookbook, which she wrote while living in India and for which she also provided all of the illustrations, Rhona and her husband, Gordon, now deceased, owned and operated a hotel in the U.K. for many years. After that venture, they bought an old-world house and turned it into a thriving restaurant. Now living in a care facility in Exmouth, Rhona has three children and seven grandchildren, all of whom inherited her love for travel. At 90+, Rhona continues to write and paint, shares Your Daily Poem every morning with her neighbors, and continues to travel—on her 3-wheeler. Says Rhona, "Life is hilarious, and I have some wonderful stories to tell."
rhonasheridan:
Thank you all so much. I feel quite overwhelmed. I gave m y Thesaurus an extra polish
Posted 10/02/2018 06:05 AM
Lori Levy:
Great poem. Love the humor and honesty.
Posted 10/01/2018 10:07 PM
Dorothy WildhagenD:
Ms. Aitken, you look like my grandmother.
Posted 10/01/2018 06:03 PM
Jo:
Brava! An interesting and thoughtful poem. Retirement gives you time to do all the things you really wanted to do all along.
Posted 10/01/2018 05:25 PM
Jane Eva Cooper:
An absolute delight! Thank you.
Posted 10/01/2018 04:02 PM
KarlaLinn:
Brava, Rhona! My "retirement" has been anything but retiring. The poet is always mightier than her thesaurus!
Posted 10/01/2018 09:58 AM
pdiaz:
I love this! I'm just 62 and contemplating retirement, and everything about this resonates with how I feel about the prospect. Thank you!
Posted 10/01/2018 09:00 AM
wordartdjc:
Hello...What an interesting and thoughtful poem. At 90 myself, I live a busy, full life. I am working on the editing of my fourth and probably the last novel right now. No grass under these feet!
Posted 10/01/2018 08:38 AM
Sharon Waller Knutson:
Rhona, I absolutely love this poem. It is clever, humorous and wise just like you. My favorite stanza is the third and my favorite line is: I've been put out to grass.
Posted 10/01/2018 08:25 AM
cork:
Only the ancient are familiar with "hit the hay." Do they take hammers to bed with them?
Posted 10/01/2018 08:16 AM
Charly:
Right on, an with such clarity! I'm with you!
Posted 10/01/2018 08:10 AM
paradea:
Bravo!!!!
Posted 10/01/2018 07:51 AM
The Purple Poet:
i'll bet she DOES have some "Wonderful Stories to tell"! After enjoying her Poem about "My Friend, the Thesaurus", i would like to read some of them!
Posted 10/01/2018 07:35 AM
Sarah Russell:
Wonderful!
Posted 10/01/2018 07:34 AM
Larry Schug:
The message of this poem needs to be spread far and wide; every line and image works to make this poem a success.
Posted 10/01/2018 06:55 AM