I'd relish being a Haberdasher
and live with ribbons, wool, and lace.
Just to handle braids and buttons
would put a smile upon my face.
With ensignias and banderoles,
with tapestries and bows – 
    my personal festivity
         of velvets – furbelows.
They bypass generations
as imagination flares
with the silks of past romances –
what other shop compares?


© by Rhona Aitken.
Used with the author's permission.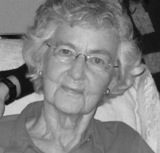 Rhona Aitken has lived all over the world during the course of her life. The author of The Memsahib's Cookbook, which she wrote while living in India and for which she also provided all of the illustrations, Rhona and her husband, Gordon, now deceased, owned and operated a hotel in the U.K. for many years. After that venture, they bought an old-world house and turned it into a thriving restaurant. Now living in a care facility in Exmouth, Rhona has three children and seven grandchildren, all of whom inherited her love for travel. At 90+, Rhona continues to write and paint, shares Your Daily Poem every morning with her neighbors, and continues to travel—on her 3-wheeler. Says Rhona, "Life is hilarious, and I have some wonderful stories to tell."
wordartdjc:
Yes a lovely poem of a subject not usually tried.
Posted 11/26/2018 11:31 AM
wordartdjc:
Yes a lovely poem of a subject not usually tried.
Posted 11/26/2018 11:31 AM
Lori Levy:
Great use of language and rhyme!
Posted 11/25/2018 07:27 PM
Mary Lou Taylor:
Great word: furbelow. Fun poem.
Posted 11/25/2018 02:21 PM
cork:
Rhona, I will be looking up a few words this morning to improve my vocabulary and also considering different kinds of headgear. Thanks.
Posted 11/25/2018 10:16 AM
Larry Schug:
Furbelows! Banderoles!--words that are not going to leave my head today, both so much fun to say aloud. Thanks for adding to my vocabulary with great word tucked inside a nice poem.
Posted 11/25/2018 08:27 AM
michael escoubas:
Appreciate Rhona's language dexterity, and gentle rhyme-scheme where every word contributes to the overall power of the poem. What a delight! Thank you.
Posted 11/25/2018 08:08 AM