Two years old with my first kitten;
she was white as snow and I was smitten!
Not knowing my colors, except one or two,
I hugged her and called her "my little Blue."

It was late in November with Thanksgiving near,
a time we all love and wait for each year.
Cornbread stuffing and pumpkin pie,
a big hen turkey . . . oh, my, oh, my!

Leftovers went in the fridge 'til next day.
Mama always cooked and planned it that way.
I watched as the food was placed in the bin,
then waited a while and put Blue in.

A short time later, I told my brother,
afterwards which he told our mother.
Mama threw out the cat and pitched the food.
Now I'm sitting in the corner and Mama is stewed!


© by Linda Tillis Crosby.
Used with the author's permission.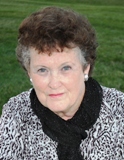 Linda Crosby is a mother and grandmother from Chapmansboro, Tennessee. Retired after 41 years in the banking industry, she now spends her time gardening, walking, enjoying nature, and spending time with her family. Linda sings in her church choir, works part-time as a school bus aide for children with special needs, and enjoys writing as a hobby.
paradea:
Good one!!!
Posted 11/29/2019 09:06 AM
cork:
I remember that "corner" punishment.
Posted 11/29/2019 08:59 AM
michael escoubas:
Sounds like something my grandsons would get up to! Have to watch'em every minute. Very nice poem, Linda!
Posted 11/29/2019 08:52 AM
Larry Schug:
That'll teach ya!
Posted 11/29/2019 07:53 AM