Illness, death, disease and even divorce
bring out the mixing bowls, the spoons,
the flour, the sugar and the speckled brown eggs.
Good women converge in kitchens on far
sides of town, all for the expression
of love and sorrow, sadness and hope.
They consult stained cookbooks, faded cards
and memories sharpened with use to concoct
something that will stave off the hunger for
knowing what comes next—what comes
after we get through this . . .
And when the pound cake isn't quite done,
with a soft, moist middle that invites us
to sink down and find an almost peace—
When the sugar in the meringue doesn't
quite melt, and caramel drops bloom like
smoky topaz tears—That's when love
and sadness meet the perfect measure,
filling our sorrowing hearts,
if only for a mouthful.


This poem first appeared in Appalachian Heritage Magazine (Summer 2006).
Used here with the author's permission.
Purchase a framed print of this poem.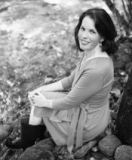 Sarah Loudin Thomas grew up on a 100-acre farm in French Creek, West Virginia, the seventh generation to live there. Her writing celebrates the people, land, and heritage of Appalachia, and her first novel,Miracle in a Dry Season, was released in August 2014. Sarah currently oversees fundraising and communications for a Christian children's home in Black Mountain, NC. She and her husband Jim live in the mountains of Western North Carolina, where Sarah is active in her local church and enjoys cooking and reading.
New comments are closed for now.
transitions:
Yes...
Posted 05/05/2015 10:20 AM
Cindy:
beautiful and true
Posted 05/05/2015 08:27 AM
mimi:
mouth-watering!
Posted 05/05/2015 07:31 AM
erinsnana:
I love this poem!
Posted 05/05/2015 05:19 AM