Your knees, my friend, are hairy
And they don't touch mine.
It's the nuzzle of the wet nose
Patiently behind my kneecap
That tells me it's time.
© by Persephone Abbott.
Used with the author's permission.
Purchase a framed print of this poem.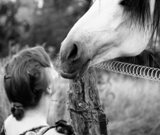 Persephone Abbott is a multilingual musician and writer who lives in The Netherlands in the historical city of Gouda. Born in America, she left to live in Europe at a young age "to pursue a life different from what she could have otherwise experienced." She currently shares her viewpoints on modern life and life as an expatriate in her blog, "The Sweet Bag of the Bee." Persephone stays busy with a variety of writing projects; you can read more of her poetry on her website, "A Little Grey Matter."
New comments are closed for now.
apersephone:
Bedankt! Ik ook!
Posted 11/10/2011 05:15 AM
Eiken:
Mooi:))), ik hou van mijn dieren. Groetjes uit Ierland. Maire
Posted 11/08/2011 09:27 AM
apersephone:
Kevin, Those gentle reminders from four footers are always welcome!
Posted 11/08/2011 05:37 AM
KevinArnold:
When Ava, our poodle, stands next to my chair and stares at me, it's four PM, time for her walk. You can set your clock by her. Persephone captures that beautifully.
Posted 11/07/2011 08:27 AM