†
On the first day of strong sun in May, I notice
a broken limb on the forest floor, a strip
†
of blonde wood splayed toward the light,
and on it a lizard, length of my hand,
†
re-threading its blood in midday warmth.
As I approach, it keeps motionless,
†
eyes bright, neck striped. It sits
the way messages are left in conspicuous spots.
†
In a nearby marsh, mallards brood in hidden nests,
and unseen frogs in congregations pulse their songs.
†
I lean closer and under one armpit
of the lizard, I see beneath the skin
†
a tiny heartbeat throb, and instantly
I see the animal in me.† †


© by Eric Forsbergh.
Used with the authorís permission.
†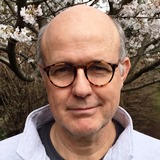 Eric Forsbergh retired from a career in dentistry in 2020, but then volunteered to be a Covid vaccinator for Loudoun County, Virginia. He has participated in dental mission trips to Guatemala and Appalachia and recently earned a Master's level certificate in Biblical Justice from the John Leland Center for Theological Study. A Vietnam veteran, Eric is the author of one book, Imagine Morning, and has published more than fifty poems in various venues. When not writing or studying, he enjoys spending time with his two energetic and highly curious grandsons at his home in Virginia.
Darrell Arnold:
I have witnessed many :"unseen frogs in congregations" pulsing their songs. I love this choice of words to describe them and what they do. Nice line.
Posted 05/06/2023 03:10 PM
Lori Levy:
I agree with the others comments. Great poem!
Posted 05/06/2023 02:32 PM
CamilleBalla:
Wow, Eric, you are so aware of the heartbeat and song of nature. Very nice poem.
Posted 05/06/2023 10:20 AM
Wilda Morris:
A wonderful expression of the relationship between humans and nature. Thank you!
Posted 05/06/2023 09:58 AM
Michael:
Impressive background, Eric. You write with the observational acuity that demonstrates a true poet's heart.
Posted 05/06/2023 09:13 AM
David:
Love the line about the tiny heartbeat. Very nice poem!
Posted 05/06/2023 09:09 AM
Levispoet:
Thoroughly enjoyed this... felt I could relate to the details and the sentiment.
Posted 05/06/2023 08:23 AM
tiddles:
Ah, recognition of brood, pulse, throb. Beautiful poem.
Posted 05/06/2023 08:01 AM
Larry Schug:
What a simple,yet profound ending.
Posted 05/06/2023 06:53 AM
peggy.turnbull:
I woke up to the grace of this poem. Unseen frogs in congregations pulse their songs is my favorite line.
Posted 05/06/2023 06:21 AM
Shoshauna Shy:
Amazing poem, Eric. My favorite line was "It sits the way messages are left in conspicuous spots."
Posted 05/06/2023 05:07 AM