As the recliner makes a pillow
of my empty head (my body in disguise),

you skitter

from window to window, eyes
trained for weeds in the flower beds. If

thereís weeding to be done, your aim
is to find it. The aim of my body is the game.

Any game. There are weeds in every
flower bed you sow. Thereís a game on

every Sunday I know. But the recliner is inclined
to weight my body instead, and though

the weeds have disappeared
from all your flower beds, you havenít stopped

skittering
from window to window.


From What Comes Next (Finishing Line Press, 2013).
This poem first appeared in the Oak Bend Review.
Used here with permission.
†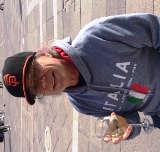 James Keane lives in northern New Jersey with his wife, Barbara Jean, son, Nicolas, and a menagerie of merry pets. He earned bachelorís and masterís degrees in English Literature at Georgetown University, spent many years working in publishing, public relations, and advertising, is the author of two chapbooks, and his poems have appeared in a wide assortment of journals and anthologies. In March of 2022, James and his brothers spent ten wonderful days in Italy, starting in Milan, where they lived 60 years ago, then traveling by speed trains to Venice and Rome. He hopes to return to Italy someday (especially Venice!) with his wife and son.
Bishop1956:
What, no apostrophes allowed?🙄😳
Posted 07/28/2023 09:55 AM
Bishop1956:
Posted 07/28/2023 09:54 AM
Bishop1956:
Sorry about that. Ill.
Posted 07/28/2023 09:53 AM
Bishop1956:
Thank you all for reading my poem and your comments. Larry, I feel you. I really do. But if I do what you suggest, Ill leave it to you to explain to my wife why our enjoyment of the baseball season has been abruptly curtailed.😊
Posted 07/28/2023 09:51 AM
Adriana:
love the structure, the internal rhyme, and the humor of this poem - absolutely cannot relate to the skittering wife - I have only weeds in my tiny condo enclosure; they are lushly green, and sometimes have flowers, and I'm grateful I don't have to do any gardening except to trim them occasionally so they don't grow too high...
Posted 07/17/2023 07:24 PM
Lori Levy:
I agree with Sharon!
Posted 07/16/2023 05:23 PM
Jancan:
Choices, choices . . . well said!
Posted 07/16/2023 03:03 PM
Sharon Waller Knutson:
I like this humorous, charming entertaining poem a lot with the mystery, inner rhyme and the contrast between action and inaction. It reminded me of Sunday at most houses. Husband in recliner watching a ballgame while the wife worries about the garden being weeded.
Posted 07/16/2023 12:42 PM
David:
Some Sundays the recliner wins even if the home team doesnt! Very nice.
Posted 07/16/2023 09:44 AM
Larry Schug:
My advice to the narrative voice in this poem is the advice offered in a song by John Prine. "Blow up you tv".
Posted 07/16/2023 08:08 AM