If it's cold enough—
non-essentials shut down 
so two people can winter- 
over together.
I am telling you 
what we have will last.
It's not your fault my distrustful side
is dug in deep 
from childhood
when my mother 
had the kitchen painted yellow, 
brightest shade on the color chart
and how Dad kept it that way
after the divorce.

What does all this mean, anyway,
when I can't outrun the words written
about me in the stars? Born January
first in the hands of the Finger Lakes
during the blizzard of the century 
the reason I won't go to Florida
with you. When the house we share
is snowed-in and muffle-bound, 
swaddled torpid box snug like a casket, 
it is enough waking up next to you 
and from under the covers we wonder 
where thirty years have gone.
From Formulary (Astounding Beauty Ruffian Press, 2008).
Winner of their 2008 Poetry Chapbook Award.
Used here with the author's permission.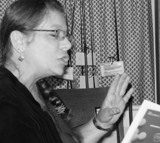 Georganna Millman lives in the Catskill Mountains of upstate New York with her husband Marty. The mother of two grown sons, Georganna owns an independent retail pharmacy and is a grantwriter for the Woodstock Poetry Society & Festival. Her award-winning poetry has appeared in many national and regional publications and her chapbook, Formulary, won the Astounding Beauty Ruffian Press Poetry Award in 2008. Her latest book, Set Theory, was released in 2010 as part of the New Women's Voices Series from Finishing Line Press. Learn more about Georganna at www.GeorgannaMillman.com.
Glen Sorestad:
As one who can appreciate the wisdom of winter hibernation,I love both the title and the wisdom of this poem, Georganna. Very well done, indeed!
Posted 02/07/2012 03:26 PM
dotief@comcast.net:
I love that a Florida girl like me can understand and appreciate this poem. Very nice!!!
Posted 02/07/2012 10:25 AM
Linda Lee (Konichek):
Another wondrous poem-thanks, Jayne! I just love the way it builds up to the ending image. Thank you, Georganna.
Posted 02/07/2012 09:07 AM
Linda Lee (Konichek):
Another wondrous poem-thanks, Jayne! I just love the way it builds up to the ending image. Thank you, Georganna.
Posted 02/07/2012 09:06 AM