She, slightly stooped,with ample bosom,
he, short gray hair,
ramrod straight
learned from soldiering in Korea
hold hands
as they walk to the store.
He holds open the door.
Her eyes shine
as she looks up at him.
Certainly they were
fierce lovers
with the passion of youth,
always faithful.
Soon one of them
will be gone.
The other,
given comfort
by children and grandchildren,
will look at the wedding picture
each evening and see
the zaftig bride
in white,
the groom,
ramrod straight,
his dark hair very short.
© by Robert Manchester.
Used with the author's permission.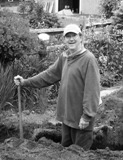 Robert Manchester lives in New Hampshire, surrounded by leafy trees, stone walls, memories of Robert Frost, and lots of living poetry legends. He's been writing and publishing poems for 50+ years, but quite prefers writing to submitting, so seldom gets around to the latter. Robert confesses that he likes to write edgy poems about the "underbelly of life--the junk cars, tumbledown trailers, goat pens in the front yard, and the like," though he also likes haiku and, of late, is experimenting with syllable and meter.
rcstewart3:
I like your style! Thanks for submitting this one! (I, like you, prefer to write than to submit...) ;-)
Posted 02/10/2012 07:19 PM
Sarah :
Nice poem and cute poet! Sarah Robert's zaftig bride
Posted 02/10/2012 11:41 AM
marenomitchell:
Thanks, Robert. My husband and I walk that walk.
Posted 02/10/2012 10:41 AM
Buckner14:
A beautiful poem; I can see those people; I KNOW them; in fact I'm one of them.
Posted 02/10/2012 09:41 AM
Donal Mahoney:
A very fine poem. Nice to see that it has been written by someone who has been writing for many years. Sure hope he submits again.
Posted 02/10/2012 08:55 AM
jayne:
Zaftig means full-figured and shapely.
Posted 02/10/2012 07:33 AM
Russell:
In any case, Robert, an EXCELLENT piece! Very visual and tactile at the same time. Russell
Posted 02/10/2012 07:21 AM
r1manchester:
thanks russell & jerry for your editorial comments re: "common". it was submitted with a comma, but it must have gone to the grave with whichever character died.
Posted 02/10/2012 06:54 AM
Russell:
Jerry, "Zaftig" is German (possibly also Yiddish) for "juicy." I agree with you, by the way, about the insertion of a common (sic) after the word "youth." Russell
Posted 02/10/2012 06:47 AM
wyantjl42:
I enjoyed Robert's poem, very accessible and poignant. Couldn't find the word "zaftig" in my 1975 Webster's New Collegiate. What does it mean? Consider the insertion of a common after the word "youth." I think it would suggest the longevity of their relationship up to and beyond the grave. Jerry
Posted 02/10/2012 05:01 AM