Diamond juice
drips
from icicles melting in the sun

© by George Wentz.†
Used with the authorís permission.
†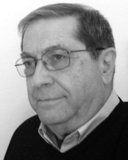 George Wentz spent 35 years in the insurance business and another 15 years in the hospitality industry. When he retired in 2008 (or was "let out of the box," as he puts it), George took the advice of a friend and begin dabbling in poetry. Heís discovered that he enjoys this new interest immensely and, as a resident of scenic Door County, Wisconsin, has "a wealth of inspiration provided by Mother Nature." A member of the Wisconsin Fellowship of Poets, George also enjoys writing short stories about a variety of subjects.
†
Eiken:
Lovely.
Posted 03/13/2012 07:41 AM
tannerlynne:
OH I wish I had written this poem! Perfect! LST
Posted 03/05/2012 12:51 PM
marenomitchell:
Thanks. Priceless.
Posted 03/05/2012 12:05 PM
pwax:
"Diamond juice" -- I love it! Phyllis Wax
Posted 03/05/2012 10:55 AM