When a friend calls to me from the road
And slows his horse to a meaning walk,
I donít stand still and look around
On all the hills I havenít hoed,
And shout from where I am, "What is it?"
No, not as there is a time to talk.
I thrust my hoe in the mellow ground,
Blade-end up and five feet tall,
And plod: I go up to the stone wall
For a friendly visit.

From The Poetry of Robert Frost (Henry Holt)
This poem is now in the public domain.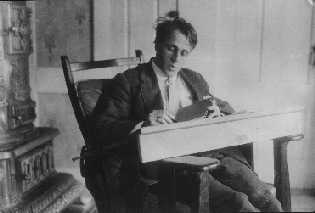 Robert Frost (1874-1963) was born in San Francisco, but moved to Massachusetts with his family after his father's death in 1885 and, ultimately, lived in a number of homes and farms throughout New England. Though he attended several prestigious colleges and universities, he never graduated from any of them. Nonetheless, Robert spent most of his adult life teaching, receiving more than forty honorary degrees, along with four Pulitzer Prizes. Robert's interest in poetry started early; he published his first poem while in high school, sold his first poem at twenty, and by the age of forty, was one of America's best known and best loved poets. Rural life is a consistent theme in Robert's poetry, as is simplistic language that is pleasing to the ear; he felt strongly that poetry was best appreciated when read aloud.
Linda Lee (Konichek):
Every time I read an unfamiliar Frost poem, I fall in love again. His simple images and their rhythms are so true. I didn't know this one--thanks, again, Jayne.
Posted 04/09/2012 11:01 AM
Buckner14:
We need more literature on the importance of friendship.
Posted 04/09/2012 08:45 AM
John:
A deceptively simple poem, showing how crafty Frost can be. The poem is divided into two sections of five lines each linked by the 'ÄúD'ÄĚ end rhyme. And the anapests from the first line sound like, well, maybe, a horse walking? Wonderful example of technique enhancing a mundane subject.
Posted 04/09/2012 08:39 AM
gigi:
We all need to take the time to visit.
Posted 04/09/2012 05:02 AM