I can hear them
In the distance.
Geese.

Sugaring shack,
Maple tree sap.
Boiled down to
Syrup.

Hopping, looking,
Head cocked to side.
Robins.

A patch of snow
Waits for the sun.
April.
© by Robert Manchester.
Used with the authorís permission.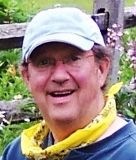 Robert Manchester (1943 - 2022) was born and raised in New Hampshire, surrounded by leafy trees, stone walls, and memories of Robert Frost, Jane Kenyon, Donald Hall, and Richard Eberhardt. He wrote and published poems for 50+ years, admitting that he much preferred writing to submitting, although his work appeared in print frequently. Robert especially enjoyed writing "edgy" poems, he said, about "the underbelly of life--the junk cars, tumbledown trailers, goat pens in the front yard, and the like." In addition to being a poet, he was a lifelong gardener and devoted volunteer at many charitable, educational, and public organizations.
Eiken:
Lovely work.
Posted 04/27/2012 04:09 AM
otzieinsc:
It makes me homesick....Robert Frost taught at my high school 1906-1911.
Posted 04/13/2012 06:58 PM
LindaCrosfield:
You caught it!
Posted 04/11/2012 12:38 PM
KevinArnold:
A pleasant rhythm. The correct form.
Posted 04/11/2012 08:57 AM
John:
Wonderful poem. So much depends on April. And I like that the only three-syllable line is "boiled down to."
Posted 04/11/2012 08:03 AM
phebe.davidson@gmail.com:
Nicely done!!!--April is indeed that sort of month.
Posted 04/11/2012 06:43 AM