homesteads over the porch light

Packs grass threads, bits of straw

recently spread over the resown lawn

shreds of ribbon last seen fading

in the budding birch where

she should have been at work

on a bedstead for her blue baby eggs



This morning her cob-walled nest

balances upon the fragile pilings



Sipping coffee on the deck

I watch her as she eyes me

Used with the author's permission.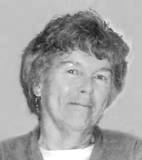 Virginia Scholtz has been writing, as a hobby, since she was a child. Now that she's semi-retired from nursing, she's enjoying the freedom of an unscheduled day and says, "A lot of the poems that come into my mind enter through a bit of yard work or a walk in the woods." Virginia is working on improving her craft by participating in the "Poetry People," a workshop at UW-Waukesha. She's also a member of the Wisconsin Fellowship of Poets.
rjkirch:
I absolutely love this poem....very Walt Whitman-like.
Posted 05/11/2012 12:22 PM
lakemichsailor:
They like those warm, sheltered lights, don't they? Just can't turn it on for a while, but Nature Lovers will understand the more-than-usual welcome even so. Great poem once again, Mom! Perfect for Mother's Day, too. I do so love you, slm.
Posted 05/11/2012 09:57 AM
dotief@comcast.net:
Love it! I am all about the birds!
Posted 05/11/2012 09:22 AM
Julianne Carlile:
I'll bet you won't pull it down again!
Posted 05/11/2012 07:41 AM
Janet Leahy:
It's all location, location, and Mrs Robin knows best. Fun poem, great ending!
Posted 05/11/2012 06:49 AM