Stay away from amusement park rides
country roads and horses said the neurologist
after the rupture of a disc
Could have been my father dictating
that rivers, convertibles and horses
were too dangerous for his only daughter
Who had to pretend with a stick horse named Trigger

In middle age I have blossomed
in the fiery glow of rebellion
The embers fall like petals surrounding Sadie
Me in neck brace and cowboy boots
She the bridge connecting me
to hallowed ground of my family homestead

Reason says the oatcakes I've fed her every summer
account for the whole-heart gift
of submission she grants me
Instinct says she knows age and hard times
had her headed for the dog food factory
And that we were related long before I adopted her
That our ancestors have entwined for generations

Back at the barn the last foal she'll ever have whinnies
She answers a comfort but another call too
From the open range, clover and wild grasses
We continue her easy gait
Heedless to a red-tailed hawk's scream
as he circles a prairie dog hole

Below hooves crunch rattlepod
Pound smells of sage, dropseed and manure
out of the soil our grandparents toiled
Sustenance we breathe-in as we move
toward the flames of sunset in front of us
Like sisters following the same trail
Our manes flying free in the prairie breeze


From Wild as in Familiar (Finishing Line Press, 2011).
Used with the author's permission.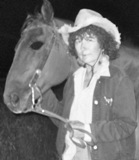 Ellaraine Lockie lives in Sunnyvale, CA, where she is a full-time writer of poetry, nonfiction books and essays; a freelance writing workshop instructor; poetry editor for the lifestyle magazine, Lilipoh; and a frequent judge of literary contests. Her poetry is widely published and awarded and she is the author of ten books, the most recent being Wild as in Familiar, from Finishing Line Press, in which this poem appears. Her chapbook, Stroking David's Leg, received the Best Individual Collection Award for 2010 from Purple Patch magazine in England, and Red for the Funeral won the 2010 San Gabriel Poetry Festival Chapbook Contest. Ellaraine is also a professional papermaker who has worked with community projects in that capacity in South Africa and for various U. S. businesses. A video featuring Ellaraine's poetry, handmade papers, and handbound books can be seen here.

Ralph Murre:
Hard to stay away from amusement park rides, living as we do on a roller coaster. Nice work, as always.
Posted 05/24/2012 09:16 AM
Jo:
Oh Ellaraine, What a marvelous poem--the horse, you, the land, all bigger than one of you could ever be alone. Beautiful story and inspiring.
Posted 05/24/2012 08:46 AM
Donna Pflueger:
Ellaraine, you fed all of my senses - especially my heart. I was reading a story,so vibrant and touching, I didn't want it to end. Thank you!
Posted 05/24/2012 08:37 AM
rtaylor947@aol.com:
I love the way Lockie meshes these ideas: that sometimes rebellion is necessary to get what you want, that a horse can be an irreplaceable companion, and how we can be bound to the land we call home. Outstanding poem.
Posted 05/24/2012 07:53 AM
John:
The poem tells a clear and compelling story of many small victories, adding to a kind of freedom. I'm still working on "rattlepod / Pound" Rattlepod's a kind of herb, and Pound, in this context, a horse's gait, I think. . . .
Posted 05/24/2012 07:51 AM
Sherry:
Thank you for this beautiful poem. Horses are heaven-sent.
Posted 05/24/2012 07:49 AM