tents of legs and skirts,

close to the earth, I feel

the vibrations of your feet

This landscape is a house

with rooms under every leaf,

When you invade my estate

I rejoice in its expanse.

†

Used with the authorís permission.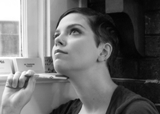 Allyson Whipple lives in Austin, Texas, and constantly draws on her state's landscape as a source of inspiration. She also loves writing about travel, both literally and figuratively. In addition to writing, Allyson is an avid west coast swing dancer, and enjoys competing in various cities. Read more about her at http://allysonmwhipple.wordpress.com.
catadip:
Beautiful poem--I like the juxstaposition of the natural and physical worlds
Posted 07/03/2012 08:44 AM
Larry Schug:
Ah, it seems all Earth's creatures are master practitioners of Zen, much more so than the human animal, (the poet excepted, of course). the last two lines are a good lesson for all of us. Nice poem, Allyson.
Posted 07/03/2012 07:56 AM
KevinArnold:
" . . . with my heart so close to the earth, I feel the vibrations of your feet before you notice me." What a marvelous poem, simply and perfectly titled.
Posted 07/03/2012 07:40 AM
LisaV:
A great view of the world through the eyes of another...
Posted 07/03/2012 05:57 AM