Green 'uns
Red 'uns
Round 'uns
Long 'uns
Sweet 'uns
Hot 'uns
On 'yuns
© by Robert Manchester.
Used with the author's permission.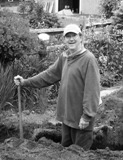 Robert Manchester lives in New Hampshire, surrounded by leafy trees, stone walls, memories of Robert Frost, and several living poetry legends. He's been writing and publishing poems for 50+ years, but quite prefers writing to submitting. Even so, his work manages to appear in print and win prizes on a fairly consistent basis, and Robert has even joined the Newbury Poetry Group. Though he views himself as a cynic who writes edgy poems about the "underbelly of life—the junk cars, tumbledown trailers, goat pens in the front yard, and the like—", his work is actually quite entertaining and often humorous.
Jean Colonomos-1:
On 'yun fun.
Posted 07/10/2012 12:25 PM
KevinArnold:
Ah, the power of brevity.
Posted 07/10/2012 09:44 AM
Gary Busha:
Gud un.
Posted 07/10/2012 08:11 AM
Julianne Carlile:
What rain?
Posted 07/10/2012 07:58 AM
comer4:
Good'un.
Posted 07/10/2012 06:55 AM