The wonder isn't that lightning
strikes where it does, but that it doesn't
strike everywhere. Specifically me.
It isn't the frequency of car crashes,
but their infrequency. Traffic flicks along
in its speed and perplexity, each move,
each surge a potential disaster.
The heart beats out its strange
litany of the enormously possible,
never excluding disease and stricture.
Why does my blood run so easy and warm?
This is the wonder: me approaching
the traffic light just turned yellow,
my foot pressing my trust down
into the brake, the car in agreement
coming steady steady to a stop.



From Prairie Schooner, Volume 73, No. 2,
and A Bride of Narrow Escape (Cloudbank Books, 2005).
Used with the author's permission.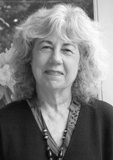 Paulann Petersen is the author of six full-length books of poetry. Her poems have appeared in numerous journals and anthologies, including Poetry, and she was a Stegner Fellow at Stanford University, as well as the recipient of the 2006 Holbrook Award from Oregon Literary Arts. As Oregon's 6th Poet Laureate, Paulann has traveled over 27,000 miles within her state, visiting all of its 36 counties to give workshops, readings, and presentations at schools, libraries, and community centers. Learn more about her at http://paulann.net.
Cindy:
yes, a good one
Posted 09/13/2014 10:09 PM
wendy morton:
Spare and powerful; this avoiding of disasters; this litany of the possible.
Posted 09/13/2014 10:31 AM
Dorcas:
In praise of opposites, resisting negative thoughts. Very nice. Thanks.
Posted 09/13/2014 09:10 AM
penhart:
Love this poem, Paulann. So true, too! Nice to "see" you again, here.
Posted 09/13/2014 06:01 AM
Katrina:
Well guided vehicle.
Posted 09/13/2014 05:54 AM
erinsnana:
I love this!
Posted 09/13/2014 05:47 AM
KevinArnold:
A new take on thankfulness, gratefulness. Brava!
Posted 09/13/2014 01:03 AM
karenpaulholmes:
love love love this poem
Posted 09/13/2014 12:33 AM
TheSilverOne:
Miracles of every day life! Thought-provoking poem.
Posted 09/12/2014 11:41 PM