My mother tongue
unrolls along the red dirt plain:
slow, tacky,
unfolding like the dream
that catches everything.

My red mother tongue
unrolls in rows of cotton,
alfalfa, fields of wheat,
and in the green water
of the silty river.

And in the back yard
on a summer's night, in grass
thick with chiggers,
red ants, stickers.
My slick mother tongue

switches legs for talking ugly,
pitching a fit, throwing a hissy.
My slick red sticky mother tongue
can lick any little pistol,
and keeps the ring-tailed tooters
toeing the line.
From Traveler in Paradise: New and Selected Poems (PEARL Editions, 2004).
Used with the author's permission.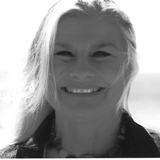 Donna Hilbert writes and teaches private workshops. Featured in the documentary, "Grief Becomes Me: A Love Story," she has seen her poems published in both French and Italian, and her book, The Green Season (World Parade Books), a collection of poems, stories and essays, will appear in a second edition in early 2012. Donna lives on the Long Beach, California peninsula where the creatures and scenery make her grateful on a daily basis. Learn more at www.donnahilbert.com.
Larry Schug:
I like this poem a lot! Gotta read it out loud (like all poems) to let your mouth have fun.
Posted 07/17/2012 08:21 AM
dotief@comcast.net:
Wow! I feel as if I have gone home!
Posted 07/17/2012 07:54 AM