Money is a kind of poetry.
                              --Wallace Stevens
Money, the long green,
cash, stash, rhino, jack
or just plain dough.

Chock it up, fork it over,
shell it out. Watch it
burn holes through pockets.

To be made of it! To have it
to burn! Greenbacks, double eagles,
megabucks and Ginnie Maes.

It greases the palm, feathers a nest,
holds heads above water,
makes both ends meet.

Money breeds money.
Gathering interest, compounding daily.
Always in circulation.

Money. You don't know where it's been,
but you put it where your mouth is.
And it talks.


From The Gods of Winter (Graywolf Press).
© 1991 Dana Gioia
Used with the author's permission.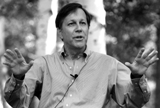 A native Californian of Italian and Mexican descent, Dana Gioia (pronounced JOY-uh) is an internationally acclaimed and award-winning poet. Dana is the author of four full-length collections of poetry, as well as eight chapbooks. His nonfiction book, Can Poetry Matter?, is credited with helping to revive the role of poetry in American public culture. Dana's work has appeared in many magazines including The New Yorker, The Atlantic, and The Hudson Review, and he has written two opera libretti. A marketing executive for many years before he became a full-time writer, Dana served as chairman of the National Endowment for the Arts from January 2003 until January 2009. In that role, he significantly impacted the role of the arts in America, launching such projects as Poetry Out Loud and The Big Read, and undertaking massive surveys on arts awareness and participation in American society. Dana is currently director of the Harman-Eisner Program in the Arts at the Aspen Institute. Learn more about him here.
 
paradea:
Great!!
Posted 09/15/2014 09:54 AM
Marilyn L Taylor:
Dana's work is consistently terrific, and this poem is no exception. Love that deadpan attitude, by the way.
Posted 09/15/2014 09:44 AM
Gilbert Allen:
A nice tribute from one vice president (General Foods) to another (Hartford Insurance)
Posted 09/15/2014 09:05 AM
erinsnana:
Love it!
Posted 09/13/2014 02:42 PM