The solemnity in those eyes
runs deeper than one can imagine.
It goes back to the days he first
that he would guard the children
when occupied in other matters.
He would hunt when the master calls,
stand guard while he sleeps.
He would make no judgment, ever,
in uncompromising loyalty.
The solemnity in those eyes tells you
†
©
by Edward Hujsak.
Used with the authorís permission.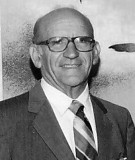 Edward Hujsak (1925 - 2018) was born in New Hampshire to a Polish farming family. A chemical engineering graduate of the University of New Hampshire, Ed worked on propulsion systems at General Dynamics during development of the Atlas and Centaur rockets. He was propulsion engineer on John Glenn's famous orbital flight and served as chief of preliminary design at General Dynamics Astronautics Division for ten years, accumulating more than a dozen patents in the aerospace field. In addition to his numerous engineering achievements, Ed was a writer, artist, sculptor, and builder of furniture and musical instruments. In his spare time, Ed made more than 2000 wooden birds, dogs, and race cars for the San Diego Fine Woodworkers Association, which distributes them to sick and needy children.

transitions:
You have captured it ~ dogs, the best of us, in your thoughtful, lovely poem. Judy
Posted 08/23/2012 10:59 AM
Larry Schug:
Dogs--the definition of nobility, loyalty and courage. Poets--the voices of those we really need to hear.
Posted 08/21/2012 09:16 AM
dotief@comcast.net:
Great poem! I've seen that look!
Posted 08/21/2012 08:42 AM