(for Rachel Carson)
 

Everyone thought we were a summer fling.

I was just 22, after all.

 

 

you would change my life forever.

 

I had always loved black cherry and hemlock trees,

deer, grouse, turtles, dirt.

wooden pencil pressed into paper.

Thoughts tumbling. Watching, writing.

 

 

But they can't compare to you:

your shimmering mackerel and

The stars shine more brilliantly when

 

Please don't slip through my fingers and

I'll fight for you, ocean,

 

 

Used with the author's permission.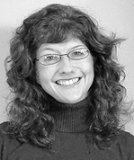 Laura Purdie Salas is the author of many nonfiction books and more than 100 books for kids and teens, including Bookspeak! Poems About Books and Stampede! Poems to Celebrate the Wild Side of School (both from Clarion). She loves to introduce kids to poetry and help them find poems they can relate to, no matter what their age, mood, or personality. When Laura's not reading or writing, she likes to play board/word games, do yoga, work out, watch reality TV, play Rock Band, and walk her beagle, Captain Jack Sparrow. Learn more about her at http://laurasalas.com.
Jane Healy:
What a great way to celebrate Carson and Silent Spring! My favorite line: "slow liquid squid." Thanks, Laura!
Posted 05/27/2014 12:16 PM
laurasalas:
Thank you so much for the kind comments! Learning a bit more about Carson was really inspiring to me (I originally wrote this to submit to an anthology of poems about big dreamers who changed the world). I'm thrilled to be sharing it here on YDP.
Posted 09/07/2012 08:55 AM
69Dorcas:
Rachel Carson was a writer, scientist and ecologist. What a lovely and appropriate tribute.I am sure she love to have seen this poem.
Posted 09/06/2012 07:33 PM
marenomitchell:
All good!
Posted 09/06/2012 12:14 PM
pwax:
Lovely liquid poem perfectly expressing the lovable qualities of the ocean in such a human voice.
Posted 09/06/2012 10:58 AM
transitions:
I absolutely love this poem (and agree ~)... Judy
Posted 09/06/2012 10:57 AM
Kay Sanders:
I am deeply moved by this poem. Thank you, Laura.
Posted 09/06/2012 08:29 AM