After dinner dishes have been washed and put away,

Clouds hover against snow-capped peaks.

The sun, already below the horizon, turns glaciers pink.

Shadows stretch across the hills

like blankets being drawn up for the night.

one last fisherman trolls for kokanee . . .

Below my feet, trout meander between pilings

glide over dappled stones.

The moon rises. On the water,

it is shattered by each wave.

With cupped hands, I scoop up a brilliant shard

and wash my face with wet light.

Soon, the wind dies, and the moon is again whole.

Pale stars, floating lanterns, dot the lake.

I untie my boat, shove off,

and lifting the oars, row across the heavens.



This poem first appeared in Poetpourri.

Used here with the author's permission.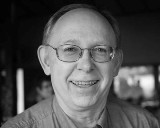 Mark Thalman lives in Forest Grove, Oregon, where he has taught 7th grade English for almost thirty years. His poetry has been widely published in small presses, college reviews, anthologies, and e-zines for the last three decades. His book, Catching the Limit, was published by Bedbug Press - Fairweather Books as part of their Northwest Poetry Series. Mark has served as a Poet-in-the-Schools for the Oregon Arts Commission, Assistant Poetry Editor for the Northwest Review, and board member of the Portland Poetry Festival. He is also an artist who enjoys painting wildlife scenes with acrylics. His two Golden Retrievers, pictured above, are named Agatha Christie and Sherlock Holmes. To learn more about Mark, visit www.markthalman.com. To purchase Catching the Limit, click on the book cover and contact Mark via his email address.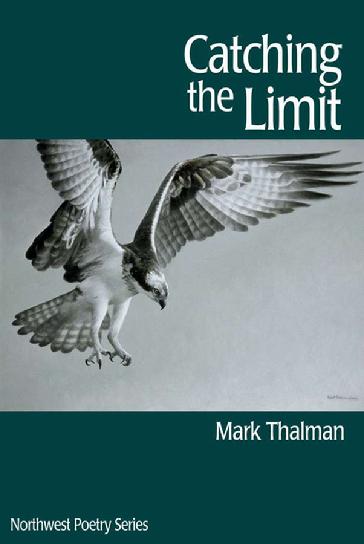 rksanders@charter.net:
Love the shadows "like blankets being drawn up for the night."
Posted 09/09/2012 07:47 PM
marenomitchell:
Ditto to all the comments, except my favorite image is: "...floating lanterns,..."
Posted 09/08/2012 05:02 PM
transitions:
Inspired...inspiring ~ thank you. Judy
Posted 09/08/2012 11:21 AM
Anne L.:
This lovely poem, full of gentle imaagery, makes me long for childhood days at Quickle's Michigan cabin...that is what poetry is about!
Posted 09/08/2012 11:12 AM
Ginny C.:
Gorgeous poem! Thank you for sharing it.
Posted 09/08/2012 10:39 AM
jeanie:
wow!!! beautiful. elegant. yes.
Posted 09/08/2012 10:32 AM
Luluje:
Powerful simplicity. Pure elegance in his brushstrokes of the word.
Posted 09/08/2012 10:02 AM
KevinArnold:
Mark shows again what a wonderful poet he is; such restraint.
Posted 09/08/2012 08:52 AM
Janet Leahy:
So many beautiful images, "to row across the heavens" is my favorite.
Posted 09/08/2012 08:10 AM
mimi:
a lovely poem about nightfall to start the day...thanks
Posted 09/08/2012 08:06 AM
dotief@comcast.net:
Magic!
Posted 09/08/2012 07:52 AM
Charly:
Love "wash my face with wet light"!
Posted 09/08/2012 07:44 AM
Nabby Dog:
This is a highly accomplished poem. "and wash my face with wet light" is so naturally beautiful it takes my breath away. I wish Mr. Thalman in Oregon could hear me applauding him in Pennsylvania this morning.
Posted 09/08/2012 07:42 AM
tiddles:
Beautiful language, beautiful images. Marilyn Zelke-Windau
Posted 09/08/2012 07:01 AM