September, and Autumn creeps
into Summer's room. So many
dresses — green, shade upon
shade — too many. The young girl
wants something richer for the cream
of her skin and the sweep of her dark
hair. She fingers an oak leaf
imagining herself dancing
in that shape, fiery, across the hills.
She smiles. Yes. That will do.
© by Nils Peterson.
Used with the author's permission.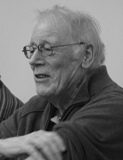 Nils Peterson is Professor Emeritus at San Jose State University.  In 2009, he was chosen the first Poet Laureate of Santa Clara County. He has published poetry, science fiction, and articles on subjects as varied as golf and Shakespeare. His newest collection is A Walk to the Center of Things.
69Dorcas:
If a picture is worth 1,000 words so is autumn worth a young girl's fantasy. Absolutely marvelous and terce.
Posted 09/20/2012 07:43 PM
Jo:
Such an enjoyable poem. A fun and refreshing poem.
Posted 09/19/2012 04:06 PM
LindaCrosfield:
Lovely! Great last line.
Posted 09/19/2012 03:33 PM
marenomitchell:
Precise and fresh as an impromptu dance!
Posted 09/19/2012 12:28 PM
Mary Ann:
Great poem. I want to draw it.
Posted 09/19/2012 10:38 AM
Larry Schug:
A "top 3" poem on this poetry site. Just perfect!
Posted 09/19/2012 09:33 AM
rcstewart3:
What a wonderful metphor! Words beautifully coined and well spent.
Posted 09/19/2012 07:29 AM