Herded into the narrow aisles,
I can't help thinking of the Fox-Bay theater
on long Saturday afternoons;
the high school kids in burgundy blazers
ushering us into the hushed generous darkness
smelling of spilled popcorn
and thrumming with the promise
of a double feature, permission
to empty our boxes of Milk Duds
and Jujubes, our Good & Plenty
and tall cups of Hi-C,
the dark velvet drapery rolling open,
manuvered by careful, invisible hands,
while far away on the walls, the relief sculptures
of gnarled, windswept trees,
cliffs where a heroine might perch
awaiting her story.


From We Lit the Lamps Ourselves (Salmon Poetry).
Used with the author's permission.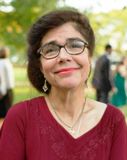 Andrea Potos is the author of five books of poetry, including the newly released We Lit the Lamps Ourselves (Salmon Poetry).  A self-professed "book addict," her award-winning work often focuses on women and family. Her Greek grandparents and their spirit have been an abiding presence and inspiration throughout her life and poetry. Andrea lives in Madison, Wisconsin, with her husband and daughter. 
wendy morton:
Oh how I miss those heady days of the black and white movies, Heathcliff suffering, the moors glowering with love. Milk duds.
Posted 09/29/2012 03:58 PM
Larry Schug:
Oh, those cowboy movies on Saturday afternoon! Thanks for bringing back that memory. You've captured the experience of a kid in those days so well. And you're right--they don't make 'em like that any more. Good work, Andrea.
Posted 09/29/2012 01:40 PM
tannerlynne:
You are too young to remeber ushers at movies! Good & Plenty was always my candy of choice. Thanks for such a fun poem.
Posted 09/29/2012 09:16 AM
ed werstein:
how perfect. I was at the Fox Bay last night for two films, part of the Milwaukee Film Festival. Although the Oriental is still numero uno! Great poem.
Posted 09/29/2012 08:52 AM
dotief@comcast.net:
My thoughts move to the Center Theater where my BFF, Marguerite, and I watched Lawrence of Arabia five times one summer long ago. Can you imagine such a thing? I bet this poet can! Thanks for a wonderful look back.
Posted 09/29/2012 08:37 AM
Janet Leahy:
It's the invisible hands rolling open the dark drapery, what a memory, thanks Andrea
Posted 09/29/2012 07:33 AM
vscholtz:
Makes me think of Madison's Barrymore - It used to be called the Eastwood. My little brothers and I saw coyboy movies there most Saturday mornings. Thanks
Posted 09/29/2012 05:27 AM