Working an autumn garden
itís not hard to think about dying
when the thinnest, most delicate
of ices linger all morning
here and there in the yellow grasses.
†
The sun on our back
throws what is before us
into a sharp relief,
snapdragon wither from
stem to bud and dahlia from
the ruined blossom down.
†
Fruits, leathery pods,
nuts and berries,
a blizzard of seed,
blights, rusts and smuts.
†
The dry husks of the day
like a fire going out,
dying from its center
burning clear at last.


© by Bruce Taylor.
Used with the authorís permission.
†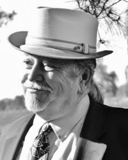 Bruce Taylor is the author of seven collections of poetry, and editor of eight anthologies. Poet Laureate of Eau Claire, Wisconsin from 2011 - 2016, he is currently waging a losing war on the critters eating his garden.

transitions:
I felt the ending was brilliant, a perfect 'wrap=up' to a deeply felt and thoughtful poem. The last three lines my favorites... thank you ~ Judy
Posted 10/02/2012 11:14 AM
marenomitchell:
Two thumbs up to these super clear images.
Posted 10/02/2012 10:35 AM
Joe Sottile:
Yes,there were wonderful lines in this poem and, even considering the title and introduction, I expected something redeeming about the end. It wasn't there.
Posted 10/01/2012 03:10 PM
rcstewart3:
"The sun on our back / throws what is before us / into sharp relief" a striking metaphor, subtle but perfect for the wisdom that comes as our own days grow shorter shead of us. Yes, we have left fruits, but there are the smuts and cankers that make our past so rich in texture. Thank you for this beautiful poem!
Posted 10/01/2012 11:17 AM
Larry Schug:
Simply put, great poem. It's full of that elusive element I call texture. I can feel it in my hands, even though it resides in my spirit.
Posted 10/01/2012 10:55 AM
Anjie:
Bruce, I love it! "dying from its center/burning clear at last" --- Excellent!
Posted 10/01/2012 10:45 AM
peninsulapoet:
What is it about Wisconsin that seems to produce such fine poets? Excellent poem.
Posted 10/01/2012 08:55 AM
Marilyn L Taylor:
This is a gorgeous thing, Bruce-- as E.D. wouldhave put it, it blew the top of my head off. Thank you for writing this gem.
Posted 10/01/2012 08:50 AM
John:
You have to be a gardener to write, and appreciate, this part of the cycle. I had trouble just yesterday pulling out the beans because there were still a few still flowering!
Posted 10/01/2012 08:18 AM
Gary Busha:
I like the garden similes. The poem is a lament, a necessary one, of the process of dying. Wonderfully written.
Posted 10/01/2012 07:40 AM
jeanie:
wonderful poem, Bruce. I was trying to pick a fav line, but they are ALL so perfect!
Posted 10/01/2012 06:47 AM