We dug the poppies from Laly's garden,
our neighbor in her nineties
who went first to the Wentworth
portulaca, dahlia, delphinium—
potato bugs eat the roots,
Laly gardened spring, summer, fall,
wintered in seed catalogs.
her grandson planned to xeriscape,
said take whatever you want.
We dug unusual colored poppies
her garden waist high weeds,
her place sold. New owners
now in my garden—scarlet, coral, peach,
amethyst. Our girls leave home.
It's me, their father, and the poppies,
©
by Laly's Garden.
Used with the author's permission.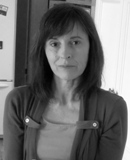 Annette Weed is a student in the Education Department at the University of Utah, pursuing a license to teach English. She lives in Holladay, Utah, where she is a member of "simple simple," a troupe of seasonal storytellers. Annette also loves going to the opera and listening to the Rolling Stones.
John:
You transplanted a memory. Thanks.
Posted 10/16/2012 12:26 PM
Glen Sorestad:
A very well crafted poem and a wonderful, moving tribute as well.
Posted 10/16/2012 11:17 AM
Janet Leahy:
A garden, a special way of connecting, my father's sweet pea vine blooms with memories, inside aunt Mary's hoya sprawls at the window, thanks for a lovely poem.
Posted 10/16/2012 08:46 AM
Larry Schug:
I don't think people are really dead until there is no one who remembers them. This poem keeps someone alive.
Posted 10/16/2012 08:43 AM
mimi:
sad, poignant and beautiful...and what a lovely memory in flowers. thank you for sharing this.
Posted 10/16/2012 07:05 AM
Eiken:
Annette, I loved this, I too have plants from special people in my life and when they bloom, I remember them, it is a precious gift to be able to transplant flowers and people live on in our memory but also in our gardens:)) Beautiful poem!! Maire x
Posted 10/16/2012 05:34 AM