First a mouse came to my door,
next a dog demanding treats,
in the late fall sunshine.
Almost done with saving time,
I was not done with saving chocolate.
I said to the dog, "You can't have chocolate.
He protested that he was a strong dog,
a wise dog, could even take
chocolate through an IV, if need be,
He muzzle-nuzzled me for a Nestle.
Halloween, a time of year, a time of mind,
when serotonin levels swell
at just the thought of candy.
Sugar keeps those little legs pumping,
down streets, up steps, over sidewalk cracks.
Lights on porches draw them in like moths.
Some are reluctant to say the magic words.
Some are brash and grab their own choice
from the bowels of the bowl.
They turn, after three small words,
fall into waiting strollers
pushed by fathers, who extract their toll
with a snicker, to the next yard.
©
by Marilyn Zelke-Windau.
Used with the author's permission.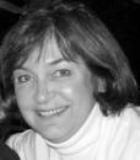 Marilyn Zelke Windau lives in Sheboygan Falls, Wisconsin with her husband and year old golden retriever. Recently retired from many years of teaching art to elementary school children, she enjoys her newly free hours to write, garden, and paint. Her poems have appeared in several publications including Verse Wisconsin, Seems, Fox Cry, and Stoneboat. She is a member of the Wisconsin Fellowship of Poets.
Jo:
What a fun poem, Marilyn. The details, and all the animals. I really enjoyed this.
Posted 10/31/2012 09:47 PM
Maryann Hurtt:
Great details, great sounds...can totally picture Sheboygan Falls tonight! Thanks for the fun, Marilyn.
Posted 10/31/2012 06:49 PM
gjressmeyer:
Every detail feels right, including sidewalk cracks and children shy or brash. Thanks, Marilyn.
Posted 10/31/2012 01:03 PM
loisflmom:
Love it. We live in a condo complex with too many crotchety old folks and practically no children.. I sure miss those little trick-or-treaters!
Posted 10/31/2012 12:36 PM
Linda Muldoon:
Drawn like moths and magic words. You keep getting better and better.
Posted 10/31/2012 10:57 AM
Wilda Morris:
What fun! I do wish more children dressed like animals and fewer like superheroes or movie stars. I enjoy the surprises in the poem - throwing in the fact that dogs aren't supposed to eat chocolate, the snickers near the end, the bowels of the bowl.
Posted 10/31/2012 08:22 AM
Marilyn L Taylor:
Delightful! Love the snicker. . .
Posted 10/31/2012 07:55 AM
ed werstein:
Good poem. Lots of fun, Marilyn. Apparently Paula has laryngitis.
Posted 10/31/2012 07:43 AM
jeanie:
very fun, marilyn! love how the dads sneak candy!
Posted 10/31/2012 07:26 AM
LisaV:
Great one, Marilyn. I love Halloween time, and you captured it well!
Posted 10/31/2012 06:50 AM
Janet Leahy:
Love the parade of animals at your door, a fun poem.
Posted 10/31/2012 05:54 AM
Katrina:
I love the muzzle-nuzzling and the 'bowels of the bowl'. All wise dogs deserve treats.
Posted 10/31/2012 04:18 AM