a flock of black birds bursts across
the gray sky above a late fall dawn, then
splits in two like a pair of receivers
heading for opposite sidelines.

I'm not much of a defender this morning.
let everything score, let the last roses kick
field goals, let the tall, wide-shouldered deodars
plunge over the horizon again and again.
watch how in the far pits the sturdy clouds
hunker down against the blitzing light
while perky pyracanthas strut their orangey stuff.

already there is traffic noise as some fans
have left the game before it's over, yet nobody loses.
it's like that moment at a great stadium when
you're going off to the john or to get a beer
and you pause on the cold gritty concrete to hear
the vast, informing silence that coaches everything.

A version of this poem appeared previously in Aethlon: the Journal of Sports Literature.
Used here with the author's permission.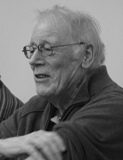 Nils Peterson is Professor Emeritus at San Jose State University. In 2009, he was chosen the first Poet Laureate of Santa Clara County. He has published poetry, science fiction, and articles on subjects as varied as golf and Shakespeare. His newest collection is A Walk to the Center of Things.
KevinArnold:
Yes, if you need anyone to combine gardening and football in a poem, call Nil's number. Put some pressure on him for a killer last line and he'll take it into the end zone.
Posted 11/26/2012 08:26 AM
Larry Schug:
You've found a way to do with football (in a small way) what literature has done for baseball. I like the way you turned a violent sport into something more aesthetically pleasing without losing the essence of the sport. Good work.
Posted 11/25/2012 09:23 AM
sharrsing:
"the vast informing silence that coaches everything" is a fabulous line and a great ending!
Posted 11/25/2012 08:25 AM
jeanie:
awesome poem!
Posted 11/25/2012 07:48 AM
mjorlock:
Very clever metaphor, surprising and delightful! The sort of poem that makes me say, "Damn, I wish I'd written that!"
Posted 11/25/2012 07:31 AM
rksanders@charter.net:
Wonderfully unexpected last line!
Posted 11/25/2012 07:02 AM