I like watching does
and their fawns trudge
through deep snow to
nibble sparse wet
grass beneath 
my deck

I like watching them
balance on thin hind legs
stretching their necks 
reaching for last ripe 
crabapples on
my tree

And I like watching them
gather into a herd then
stroll back to the woods 
leaving behind a 
trail of hearts
in the snow
© by Linda Kulp.
Used with the author's permission.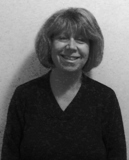 Linda Kulp has been writing poetry for many years, and has had a number of her poems published in Lee Bennett Hopkins' anthologies, children's magazines and teaching resources. Now that her sons are grown and on their own, she has more time to devote to writing and is looking forward to that. Linda lives in Pennsylvania.
laurasalas:
I'm just catching up on the December poems I missed. This is beautiful! I especially love the hearts they leave in the snow...
Posted 12/23/2012 09:08 AM
transitions:
You have written an unforgettable line "trail of hearts ~" that those of us who read your lovely poem will never forget. I wish I could send it to all of the deer 'hunters' ~. Thank you, Judy
Posted 12/06/2012 11:57 AM
Sharon Urdahl:
Lovely poem Linda, you have "painted" a frequent scene from my back yard...a trail of hearts in the snow...delightful!
Posted 12/06/2012 11:47 AM
Donna Pflueger:
Oh Linda, I can see their necks straining to reach but I will never forget the image of ...a trail of hearts in the snow. Just beautiful. I will carry your poem with me - it brings me peace.
Posted 12/06/2012 07:40 AM