From Paris this Spring,
runways
that will bring the latest
accoutrements
and slinky, slender
starving bodies.
†
Voici!
†
For a purse
a 19th century teapot,
in the crook of the elbow.
Your iPhone carried in the pocket
of a sun-kissed yellow
Somali pirate's shirt.
A tattered bath towel
for your skirt,
fixed at the waist
with multi-colored clothespins
(only in the best of taste).
Stockings, only to the knee,
colored pale Chablis, flecked
with queen bee wings.
Feet into Sherpa boots
with camel hair weave
and cinnamon sea shell,
these are the trends†
I tell you.
†
Just believe!
†
© by Robert Manchester
Used with the authorís permission.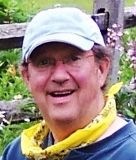 Robert Manchester (1943 - 2022) was born and raised in New Hampshire, surrounded by leafy trees, stone walls, and memories of Robert Frost, Jane Kenyon, Donald Hall, and Richard Eberhardt. He wrote and published poems for 50+ years, admitting that he much preferred writing to submitting, although his work appeared in print frequently. Robert especially enjoyed writing "edgy" poems, he said, about "the underbelly of life--the junk cars, tumbledown trailers, goat pens in the front yard, and the like." In addition to being a poet, he was a lifelong gardener and devoted volunteer at many charitable, educational, and public organizations.
phebe.davidson@gmail.com:
Who could doubt?
Posted 01/28/2013 07:53 AM
Dorcas:
It all depends on the grace of your walk.
Posted 01/26/2013 01:27 PM
hujsaked@aol.com:
Superb. Every word works, and fun too.
Posted 01/25/2013 09:45 AM
Glen Sorestad:
Very chic, Robert. Great images.
Posted 01/25/2013 08:45 AM
Katrina:
Every word works at least twice. I love this.
Posted 01/25/2013 04:12 AM