Remember when we first shared bed,

skin hungry, pasted together

Breathing the hot used air,

letting our limbs go numb,

we thought we could sleep

Now we share gold years and bed,

quiet on our own claimed side,

space between our weighted backs.

Breathing our own wide air,

to adjust blood and dreams.

When I sense your body sighing,

I slide my foot across the smooth divide

to touch your leg for anchor.

From Dust and Fire, 2011

This poem won the Susan Carol Hauser Prize for Writing.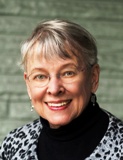 Peggy Trojan built her home in the north Wisconsin woods with the help of her husband after they retired from teaching. She has written for many years, but did submit any for publication until after she took a short writing class with the idea she could sharpen up some of her poems for her children. She published her first poem when she was seventy-seven, and is enjoying seeing her work in print. She is a member of Wisconsin Fellowship of Poets.
nanou:
I would be surprised if whatever Peggy publishes would not be a success, because Peggy is a giant poem by herself, full of kindness,full of laughter, full of life, of caring, of giving, of devotion and of love.
Posted 02/16/2013 01:19 AM
Dorcas:
They are still together!
Posted 02/13/2013 05:22 PM
Diana Randolph:
Great poem, Peggy. Congratulations. And nice photo of you.
Posted 02/13/2013 02:35 PM
lisa honecker:
This deserves another prize! From New Jersey - land of many poets. Stunning! lisa honecker
Posted 02/13/2013 01:49 PM
rcstewart3:
"Pasted together, belly to belly" and "breathing the hot, used air" are so wonderfully mirrored in the second stanza. A lovely work!
Posted 02/13/2013 11:58 AM
Larry Schug:
The last line is just so fine, Peggy; a poem all by itself. But, ya know what?--tonight I'm gonna roll over and rock the boat! Thank you and keep that pen on the paper.
Posted 02/13/2013 11:33 AM
islandspirit:
Lovely. Made me cry. Inspired that I may publish yet!
Posted 02/13/2013 11:18 AM
ed werstein:
Fine work, Peggy. I remember this from the last conference.
Posted 02/13/2013 09:38 AM
Janet Leahy:
Love the way this poem moves along to that wonderful last line. Thanks Peggy
Posted 02/13/2013 09:12 AM
mimi:
poignant and beautiful...
Posted 02/13/2013 09:11 AM
KevinArnold:
. . . what fine work . . . to 'publish her first poem at seventy-seven' . . . what wonder . . .
Posted 02/13/2013 08:53 AM
stocktonryan:
"to touch your leg for anchor". Awesome.
Posted 02/13/2013 08:44 AM
janjoy1@charter.net:
This was beautiful. SO well said, and heartfelt.
Posted 02/13/2013 06:15 AM
dotief@comcast.net:
Lovely!
Posted 02/13/2013 06:14 AM
TheSilverOne:
What a beautiful way to describe a lifelong love.
Posted 02/13/2013 06:06 AM
rnordstrom:
Lovely poem & the title is perfect.
Posted 02/13/2013 05:26 AM
erinsnana:
Beautiful!
Posted 02/13/2013 05:25 AM