There is still snow
under the junipers.
Full streams
run rapidly.
†
A grow lightís
luminescence reflects
off the emerging leaves
of the peppers
planted in March.
†
In a small patch of garden
mustard seeds (true volunteers)
swell
and push towards sunlight
hoping to be the first green.
†
Soil crumbles
in my hand.
Time to plant peas,
carrots and radishes.
There is renewal,
re-birth,
as dirty hands
page through
this yearís garden plan.
© by Robert Manchester
Used with the authorís permission.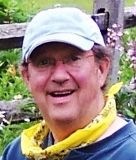 Robert Manchester (1943 - 2022) was born and raised in New Hampshire, surrounded by leafy trees, stone walls, and memories of Robert Frost, Jane Kenyon, Donald Hall, and Richard Eberhardt. He wrote and published poems for 50+ years, admitting that he much preferred writing to submitting, although his work appeared in print frequently. Robert especially enjoyed writing "edgy" poems, he said, about "the underbelly of life--the junk cars, tumbledown trailers, goat pens in the front yard, and the like." In addition to being a poet, he was a lifelong gardener and devoted volunteer at many charitable, educational, and public organizations.
Dorcas:
I'm not a gardener but it is a joy to hear the tending of one.
Posted 04/24/2013 06:53 PM
abbie:
Those of us here in Wyoming can relate to this. We've still got some snow on the gound, but it's melting fast.
Posted 04/24/2013 06:44 PM
hujsaked@aol.com:
Nice. Hot bed plants, set too soon withered by an imprudent frost.
Posted 04/24/2013 09:44 AM
erinsnana:
I love the description of the renewal in a Spring garden!
Posted 04/24/2013 08:35 AM
JanetruthMartin:
Yes, spring really has not begun until we wash our winter-hands with garden-dirt!
Posted 04/24/2013 06:20 AM
phebe.davidson@gmail.com:
Surely, this is the perfect early-spring poem of the gardener!
Posted 04/24/2013 06:07 AM
MaryLeeHahn:
Here's to dirt on our hands!
Posted 04/24/2013 05:34 AM