For Luz Long
      I've seen in black and white
footage how you were pure gold
losing the long jump to Jesse Owens,
an American man whom Hitler
called "a non-human from the jungle." 
Where in the swastika-filled stadium
did you find the courage to embrace
the black athlete who had beaten you
in front of your leader who
had no room in his life for love
of one so different from you,
his fair-haired, blue eyed
model of his master race?
I've seen the films of you
losing then walking the track
with your arm around Jesse Owens
and his arm around you
grinning like brothers,
teaching Berlin and the world
how one who loses can still be
a champion, can still tame hatred
for an Olympic moment
as Hitler stared from on high
looking stunned and alone
like a demon homesick for hell.

This poem is the winner of the 2013 New Jersey Poetry Prize 
from the Journal of New Jersey Poets.
Used here with their permission.
.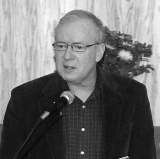 Edwin Romond  is a poet, playwright, composer, and educator. Now retired, he taught English for more than 30 years in Wisconsin and New Jersey. Edwin's award-winning work has appeared in numerous literary journals, college text books and anthologies, and has been featured on National Public Radio. He maintains an active schedule of readings and presentations; check www.edwinromond.com to see if he's appearing anywhere in your area. A native of Woodbridge, New Jersey, Edwin now lives in Wind Gap, Pennsylvania, with his wife and son.



KarenPQ:
I am awestruck by the imagery and the emotion evoked.
Posted 04/29/2013 07:51 AM
Ginny C.:
We want more poetry like this!
Posted 04/27/2013 05:56 PM
nancilee:
The last lines are great, but the first line sets the tone for the whole poem. It's very very good, shows a poet with compassion, with heart.
Posted 04/27/2013 04:51 PM
Buckner14:
Fine, throughout; the last lines are stunning.
Posted 04/27/2013 12:33 PM
barbara eknoian:
Wonderful poem! It shows the compassionate human heart is able to trump hate. Powerful ending.
Posted 04/27/2013 10:52 AM
Jhamilton:
This poem portrays humanity at its highest level! Excellent!
Posted 04/27/2013 10:42 AM
rtaylor947@aol.com:
Excellent poem!
Posted 04/27/2013 10:17 AM
gretchenfriel:
Wow, that is fantastic! Likening Hitler to a "demon homesick for hell" is possibly the best close I've ever read in a poem.
Posted 04/27/2013 09:39 AM
peninsulapoet:
A necessary use for poetry to witness and tell the truth. A wonderful poem.
Posted 04/27/2013 09:35 AM
dotief@comcast.net:
Very nice!
Posted 04/27/2013 09:15 AM
Joe Sottile:
Amen.
Posted 04/27/2013 09:04 AM
KevinArnold:
One of a poet's stances is properly as witness. Great Edwin reconstructed this scene.
Posted 04/27/2013 09:03 AM
MaryLeeHahn:
This should be made into a picture book!
Posted 04/27/2013 08:51 AM
jimfirst:
Edwin Romond is one of the fine poets writing and reading today. I heard him at the Dodge Poetry Festival, and was impressed by his clarity as well as the feeling expressed in his poetry. Jim Magaw, Ohio
Posted 04/27/2013 08:32 AM
phebe.davidson@gmail.com:
Proof positive that poetry doesn't need to pull its punches.
Posted 04/27/2013 06:05 AM