Driven to seasonal frenzy,
alewives return year after year
in hopeful frustration
to the half-ruined concrete dam
that once turned turbines
and sped electron streams
feeding factories.

Harboring eternal yearnings
as deep as life, they leap
from the curling, frothing roar
like geyser bursts of water
dazzling with silvery scales
and large, unblinking eyes
forever falling short.

Each spring brings me an urge
to witness this miraculous persistence
exceeding and outlasting
withered kilowatts—
I inhale longing
and desire energizing my own
shape-shifting dreams.
© by David K. Leff.
Used with the author's permission.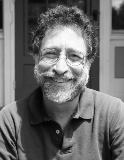 David K. Leff is a freelance writer from Collinsville, Connecticut. Author of five books and numerous published essays and articles, he is a graduate of the University of Connecticut School of Law and served as deputy commissioner of the Connecticut Department of Environmental Protection for over a decade. David is also a veteran volunteer firefighter, was a maple syrup producer for many years, and is a volunteer high school tutor and Boy Scout merit badge counselor. He has served on his local historic commission since 1986 and was chairman for 22 years. An avid hiker, canoeist and fisherman, David sits on the board of directors of Audubon Connecticut and the Connecticut Forest and Park Association. Learn more about him at www.davidkleff.com.
Ginny C.:
A fine poem for the spring season. Some vivid imagery here. Thanks for posting this one!
Posted 05/23/2013 06:07 PM
hujsaked@aol.com:
A fine work. David shows a rare connectedness (is there such a word?) to things outside himself.
Posted 05/23/2013 09:00 AM
dotief@comcast.net:
Very nice! I love the thought of breathing in desire and longing. Wow!
Posted 05/23/2013 07:30 AM
Larry Schug:
damn dams! good words.
Posted 05/23/2013 06:27 AM
JanetruthMartin:
Powerful imagery and oh, I love the end; shape-shifting dreams.
Posted 05/23/2013 06:21 AM
jimgustafson:
How fine this is. Indeed, I had forgotten my father taking me to the shores of lake Michigan, to the pier in Wilmette, Ill. to watch the alewives in their "hopeful frustration."
Posted 05/23/2013 05:59 AM