Sitting in Mrs. Goodman's fifth-grade class,
red-faced and hot from lunch recess,
I bent over my Spanish/English dictionary,
the one we'd made from lined paper,
folding it in half lengthwise, stapling it down the middle,
English on one side, Spanish on the other,
our first foreign language,
hola, hello, roja, red.

The yellow pencil slipped in my fingers
and my cursive writing was crooked and messy.
My first thought was, "I hate how this looks!
I'll have to re-copy it during summer vacation.
Make it perfect."

Because that was how it had to be—perfect.
My box of feathers in the closet, sorted by size,
arranged one on top of the other,
hawk, Stellars' jay, even the tip of a peacock feather from the zoo.
I'd take them out and stroke them,
return them exactly as they had been.
Butter in every hole of my waffle on Sundays, then syrup.
So I knew this homemade dictionary
was going to make me unhappy—it already had.

But then, jagged as a lightning bolt in a child's drawing,
came the thought, Who cares?
And that was the beginning
of not trying to be perfect anymore,
seeing what spilled over the edges,
letting it all remain just as it was.
© by Barbara Bloom.
Used with the author's permission.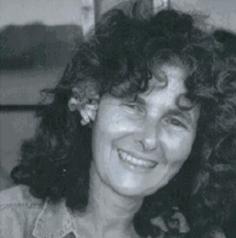 Barbara Bloom has published one full-length book of poems, On the Water Meridian, and several of her poems have been read by Garrison Keillor on The Writer's Almanac. When she was in high school, her family moved to a remote homestead on the coast of British Columbia, and she credits that for the deep connection she feels with the natural world. Recently retired from teaching, she devotes her time to writing and gardening at her home in the Santa Cruz mountains, where she lives with her singer-songwriter husband and a few spoiled pets.
LindaCrosfield:
I'm sure hardly any of us can relate to this one! Well done, Barbara. Good poem. Let those lightning bolts loose!
Posted 06/03/2013 12:03 PM
wendy morton:
Life, we know, is never a perfect box of feathers. More a box of memories: lost, beautiful.
Posted 06/03/2013 11:14 AM
CamilleBalla:
I like how you take us to the moment where you let go of perfection, but you have given me a further insight about dealing with perfectionism by seeing it as a form of art--as I read in your line 'seeing what spilled over the edges'. Very nice, and thank you!
Posted 06/03/2013 10:14 AM
Wilda Morris:
From the bio I can see that this insight freed the poet to be herself - and it has paid off! Thanks for sharing!
Posted 06/03/2013 09:36 AM
njc:
Great poem--love that last stanza! "...seeing what spilled over the edges..." I'm going to share this one with my teenage daughter, who's been trying hard to break free of some of her perfectionist tendencies.
Posted 06/03/2013 08:49 AM
TheSilverOne:
Ah, those amazing moments of insight...growth. This poem captures that so well, and is enjoyable to read.
Posted 06/03/2013 06:39 AM
erinsnana:
I love this poem!
Posted 06/03/2013 05:48 AM
gigi:
I couldn't hold the pencil to point between my elbow and shoulder. Still can't. Won't. Thanks for putting these feelings into beautiful words.
Posted 06/03/2013 05:33 AM