absent alarms, clocks, reminders,
no traffic noise, no sirens
the throaty gargle of the creek
that runs through this Texas ravine
or the whisper of bluebonnets
that sway like a thousand tiny bells.
All the traffic I need is here
the pebbled rush of water
the sporty-convertible wind in my hair
a gray feather racing downstream.
sitting here on a flat rock
bare legs dangling in the current
to write with a wet finger.
This poem first appeared in the James River Review (2004).
Used here with the author's permission.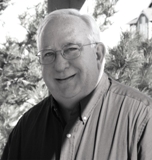 Richard Allen Taylor lives and works in Charlotte, North Carolina, as a Regional Human Resources Manager for a retail automotive dealership group. A graduate of the University of North Carolina at Chapel Hill, Taylor, having no idea he might someday want to be a poet, passed up an opportunity to double major in psychology and English because he did not care to enroll in the two semesters of poetry required for the English degree. After dabbling in poetry in his late 20s and early 30s, he abandoned poetry completely until, encouraged by friends, he picked up the pen again in his 50s. His first poems were published in 2002. Since then, his poetry has appeared in many literary journals and anthologies and he has two books to his credit.
rcstewart3:
What a wonderful word painting!
Posted 08/12/2013 08:22 PM
Wilda Morris:
I'm lookin' for that rock - I want to spend a day or two with my leg danglin' in the water, listenin' to the bluebells.
Posted 08/12/2013 06:48 PM
msruff:
Wonderful imagery. I feel as if I'm really there.
Posted 08/12/2013 04:33 PM
Donna Pflueger:
Vivid and alive! A place and a poem I don't want to leave!
Posted 08/12/2013 02:23 PM
Glenda Beall:
Primitive, yes, compared to today's electronics and high tech life. But these kinds of days are what most of us crave to get away from the rush, pressure, and stress of today's world. I really like this poem, Richard.
Posted 08/12/2013 02:22 PM
paula:
Great language!
Posted 08/12/2013 07:41 AM
erinsnana:
wonderful images!
Posted 08/12/2013 07:34 AM
rksanders@charter.net:
Love "the sporty-convertible wind." Even if we can't be in such a spot you describe, we can go there through your poem. Thank you.
Posted 08/12/2013 07:18 AM
TheSilverOne:
We all need these kind of days to stay alive in the modern world...or to be reminded of them through poetry...beautiful.
Posted 08/12/2013 06:13 AM
phebe.davidson@gmail.com:
A memorable and beautifully worded pause from the workaday world!
Posted 08/12/2013 05:36 AM