Let not your hands be idle,
my mother used to say.
I believed her.
Today I picked blackberries;
my hands thorn-slashed and bleeding.
Then blueberries, rhubarb.
Later, the August kitchen steams
with compote and summer.
My mother's ghost smiles.
© by Wendy Morton.
Used with the author's permission.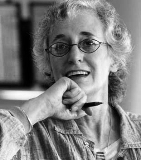 Wendy Morton believes that poetry is the shortest distance between hearts. She has five books of poetry, a memoir, Six Impossible Things Before Breakfast, in which her adventures as a corporate sponsored poet are revealed, and a set of poetry postcards, in which the above poem is included. (To purchase, click here.) She is the founder of Canada's Random Acts of Poetry project, and was the recipient of the 2010 Spirit Bear Award and the Golden Beret Award. Wendy lives in Sooke, British Columbia, where she has spent 30 years as an insurance investigator. Learn more about her here.
Wilda Morris:
A wonderful ending. And sweet memory of your mother.
Posted 10/31/2013 09:36 AM
dmahoney:
You are a master in the kitchen and on the page!
Posted 08/24/2013 10:24 AM
poetquilter:
This lovely poem brings back such delightful memories of berry picking as I grew up in Texas. Barb
Posted 08/16/2013 01:45 PM
Ross Kightly:
Ah, how many of us have to hope our mothers' ghosts will be smiling on us! Every time I take a coffee cup back to a cafe counter I'm only obeying Mum's instruction: 'Always clear up after yourself Ross - don't leave it for somebody else to do!' I'll always love a poem that gives me a reason to think of Mum again. Thank you Wendy.
Posted 08/15/2013 03:31 AM
gisela2:
Ah the sweetness of late summer and late mothers.
Posted 08/14/2013 05:22 PM
David Fraser:
Lovely poem, Wendy. With blackberries there is always danger even for the border collies who eat them with soft lips.
Posted 08/14/2013 04:41 PM
Tyler Gabrysh:
This poem truly resonates.. especially after picking some blackberries myself two days ago!
Posted 08/14/2013 03:13 PM
davemargoshes:
Nice one, I meant.
Posted 08/14/2013 12:20 PM
davemargoshes:
Nice on, Wendy! - Dave
Posted 08/14/2013 12:19 PM
Reganz:
How we risk the scratches and blood for the pleasure of sweet berries. I've picked blackberries with two friends already this week and both have told me their stories of mothers and berries. Wendy taps into the memories we have in common.
Posted 08/14/2013 12:07 PM
KevinArnold:
I love the shortest distance between two hearts. I'd not be able to write about blackberries without fear of Galway Kinnell looking over my shoulder, but that's my problem. Wendy, without my hangups, has written a wonderful poem about many things at once, including summer, blackberries, and her mother looking over her shoulder. Fine poem.
Posted 08/14/2013 11:09 AM
mimi:
perfect late summer and mom poem! thanks, Wendy!
Posted 08/14/2013 09:47 AM
erinsnana:
I loved this! I could smell those berries!
Posted 08/14/2013 09:30 AM
JWalcott:
Ah, mothers! My mouth did water, but I also want to extend some balm for those hands!
Posted 08/14/2013 07:40 AM