The boy wades into the shallows, pants rolled to his knees,
the back of his body sculpted in light and shade.

In contrapposto, he calls across time, and I see
the†Greek Discus Thrower,†that ease and expertise.

With shoulders slanted to the universe, he twists
on his own axis, movement barely perceptible.

Only the voice of the skiffing stone, its ripples and eddies
across the surface of the River Liffey breaks the quiet,

but for now what moves me most is not his muscled beauty
or intense focus, but the knowing he holds within
to make a stone walk on water.
†

This poem first appeared in†The Peninsula Pulse.
Used here with the authorís permission.
†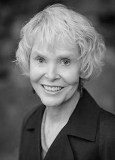 †
Mary Jo Balistreri is the author of two poetry books,†Joy in the Morning†and†Gathering the Harvest,†published by Bellowing Ark Press.†A chapbook,†Best Brothers,†was published by Tigers' Eye Press.†Mary Jo feels that losing oneself in the process of writing is healing, and that sharing poems, learning about the experiences of others, and the sensibilities and events that move them widens our circle of community.
†
paula:
Just beautiful!
Posted 08/17/2013 05:33 PM
Susan B. Auld:
elegant! like viewing a piece of art! Beautiful, Jo! Susan Auld
Posted 08/17/2013 06:31 AM
Ross Kightly:
Always trying to do what we know is not really possible - choosing the best shape of stone, the one that will go for a walk when you ask it nicely... that must be the trick - to remember. Thank you.
Posted 08/17/2013 12:49 AM
maribeth:
I have always loved this poem and am thrilled to see it posted here!
Posted 08/16/2013 04:42 PM
Wilda Morris:
I believe you, too, turn on your own axis. How else could you write so beautifully, Mary Jo?
Posted 08/16/2013 04:06 PM
Gail Goepfert:
This poem's power in the watching--lovely lasting image.
Posted 08/16/2013 04:02 PM
Ralph Murre:
"Slanted to the universe" may be the only way to "make a stone walk on water", or to write a decent poem. You've certainly done it.
Posted 08/16/2013 03:59 PM
Jo:
Thank you for your generous comments. I really appreciate them.
Posted 08/16/2013 03:56 PM
Cari:
Many, many poems come across my vision. This one reaches deep and I will never let it go. Meaningful in many ways through the experiences in my life, artistic to the max in its poetic rendering, I marvel at your gift, Mary Jo. How blessed we are to have you out there among us.
Posted 08/16/2013 02:07 PM
mimi:
lovely and poignant...
Posted 08/16/2013 01:03 PM
Patricia Goodman:
Wow! Absolutely beautiful. The poet has reached very deep for this one!
Posted 08/16/2013 01:01 PM
transitions:
Jo's poems always have a deeper meaning when read again,and again...The last line will resonate all day as her closing lines often do ~. Beautifully done...inspirational. Judy
Posted 08/16/2013 12:17 PM
becky evans:
I appreciate the visual, caught like a work of ancient Greek art, the music of Liffey and skiffing (with its reference to sculling a Thames skiff), and then the sudden shift at the end to the boy's knowing of how to create the miracle of the stone walking -- "walking" with its human connotation and its contrast to contrapposto, the stone that has a voice and becomes an extension of the boy. A gorgeous poem!
Posted 08/16/2013 11:30 AM
Ginny C.:
This one's a keeper.
Posted 08/16/2013 10:10 AM
wendy morton:
Her vision of this is so clear, such a stunning photograph in my mind. I will never again see stones being skiffed without thinking of this poem.
Posted 08/16/2013 10:04 AM
KevinArnold:
I was so taken with this poem and her earlier poems that I searched out her bio . . . she's a musician who's lost much of her hearing and now lives for poetry. Here's a quote from her bio: For me, poetry saved my life. I am here because of poetry. It continues to sustain me even when the writing itself becomes impossible. Poetry provides the tools to confront struggle, to fight when life gets tough and, always, in the end, poetry shows me what my grandson Sam always knew: joy in the moment.
Posted 08/16/2013 08:55 AM
CamilleBalla:
Wow! Wonderful!
Posted 08/16/2013 08:41 AM
tiddles:
Knowing the sculpture, your words describing the boy's pose are in perfect harmony with the Greek's. Wonderful poem. Marilyn Windau
Posted 08/16/2013 08:40 AM
Janet Leahy:
The pose of the boy and the throw back to another time, this poem travels with the ease of the Liffy.
Posted 08/16/2013 08:18 AM
ed werstein:
Great work, Mary Jo, and how appropriate for the start of Irish Fest here in Milwaukee.
Posted 08/16/2013 07:41 AM
Gary Busha:
Yes.
Posted 08/16/2013 07:41 AM
Larry Schug:
This poem places my feet in the water and a stone in my hand.
Posted 08/16/2013 07:38 AM
Charly:
Beautiful!
Posted 08/16/2013 07:24 AM
Katrina:
That last line is all the more poignant after the beautiful lead-up to it. Thank you for enabling me to see the British Isles, where I live, through na√Įve eyes. I would always like to.
Posted 08/16/2013 06:03 AM