At seven, Zeda is already a scientist.
Her attention spans the smallest moving thing
with a patience that defies her years.

It is the day before her parents will take her away to live.
We walk together around the manmade pond
that exaggerates the meaning of our waterfront home.

An alligator's wide eyes watch us, as we stop, her small hand in mine.
We stare. "Don't blink," she orders, in a most serious tone,
taking charge of the situation, as she has done since the delivery room.

We stand together hand and hand, a sculpture, old man and a child,
so still, birds contemplate landing. Without a ripple, the gator moves,
swims out, and submerges with a stealth to be envied.

Zeda, mustering all the joy of childhood shouts to the gator, "We won,"
then, drops my hand, throws her arms around my waist, leans back,
looks up into my face and speaks words that move the axis of the earth, and
change the tides forever—
"I'll miss you Grandpa."
This poem first appeared in Little Blessings (Whispering Angels Press, 2012).
Used here with the author's permission.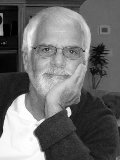 Jim Gustafson says, ?Though I am old and 'wear the bottom of my trousers rolled,' I am a student in the MFA program at the University of Tampa." After a career as a clergyman and, later, a radio station manager, Jim is now focused on writing. His first book of poems, Driving Home, was released by Aldrich Press in January, 2013. Jim lives in Fort Myers, Florida; learn more about him at www.jimgustafson.com.
nancilee:
It's good, I suppose, that you're getting your MFA, but you have already what can't be taught, as evidenced by this poem.
Posted 09/15/2013 09:44 AM
Judith Heron:
You 'got me' with this one. And the craft - masterful!
Posted 09/08/2013 12:06 PM
Jo:
A beautiful moment to cherish and hold. Thanks, Jim.
Posted 09/08/2013 10:43 AM
TheSilverOne:
Being a grandparent, looking into those beautiful new faces...what joy. Expressed that so well here.
Posted 09/08/2013 07:06 AM
mimi:
and of course, she's taking your heart with her when she goes...lovely poem, Jim... Mimi (grandmother of seven)
Posted 09/08/2013 06:34 AM
fer:
Awww, so beautifully sweet. I hope you get to visit her often, Jim. Just love "words that move the axis of the earth, and change the tides forever—".
Posted 09/08/2013 05:32 AM
KevinArnold:
My daughter is a doctor too, so the maturity, confidence, and remarkable take-charge attitude at a young age are familiar to me. When she was four she lectured my father, her grandfather who died from smoking, that he just had to stop.
Posted 09/08/2013 04:08 AM