dream of their middle-earth
You might hear the rocks talk.
This poem first appeared on the blog of poet Tabatha Yeatts (July 2012).
Used here with the author's permission.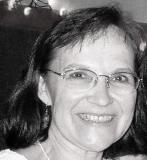 Violet Nesdoly lives near Vancouver, B.C. When she's not working at various writing projects she enjoys reading and walking local nature trails with her husband, camera in hand. Her poems have appeared in a variety of print and online publications (
Time of Singing, Prairie Messenger
,
Utmost Christian Writers
and
Your Daily Poem,
among them). She has also published two books of poetry—
Calendar
(2004),
Family Reunion
(2007), and a novel,
Destiny's Hands
(2012). Visit her on the web at
violetnesdoly.com
.
TheSilverOne:
I enjoyed your poem, as I'm a lover of rocks. I collect and live with them. They anchor me to the earth.
Posted 09/16/2013 09:38 AM
LindaB:
How wonderful to see your poem here, Violet. It's a 'treasure' for everyone who brings a bag on their hikes!
Posted 09/16/2013 07:45 AM
Larry Schug:
Being a "rocker" myself, I dug this poem. Rocks make the best memories of a vacation.
Posted 09/16/2013 07:37 AM
laurasalas:
Hooray for Violet and rocks! I especially love your tiger's eye stanza--gorgeous. My third book in the CAN BE... set will be A ROCK CAN BE... (2015), and rocks are near and dear to my heart. Thanks for this!
Posted 09/16/2013 05:37 AM
MaryLeeHahn:
How fun to find you here this morning! I have a crew if rock hounds this year who will love this poem! They spend their whole recess sitting in the pebbles by the building, searching for beauty and rare gemstones.
Posted 09/16/2013 04:10 AM
Ross Kightly:
You have to listen very carefully but eventually you will hear what the rocks have to say - even if you don't feel too comfortable about it! Love the poem and love rocks too - always carry a specimen in my coat pocket.
Posted 09/16/2013 04:06 AM